We understand that every couple wishes for this period to be flawless, like a fairytale. From the moment of engagement to the solemn exchange of vows at the altar, every detail plays an important role.
At Shu Wedding, our wedding agency has organized numerous unforgettable weddings in Georgia for foreign couples. And when we meet couples, we often encounter a common challenge — timelines. Everyone wants to have a wedding in a magical location, during the most beautiful season, with the best photographers, services, and decor. And often, there are only two months left until the desired ceremony date.
That's why we have decided to provide you with a comprehensive guide, including an optimal timeline, to help you, as a couple wishing to get married in Georgia, prepare perfectly. It is important to know when to start, so that everything can be done on time and without stress.
Open the doors to the world of wedding preparations, where each stage is filled with magic and emotions. Trust us, and together we will create your wedding fairy tale, full of sparkle, beauty, and eternal love.
Let's begin with three expert tips from our agency:
The realization of a perfect wedding is indeed possible, but it requires a substantial amount of effort in terms of organization and planning.
The more time you allocate to preparation, the better the outcome. When it comes to orchestrating a truly extraordinary celebration such as a wedding, an ample time buffer is essential. This allows for a smoother planning process, reducing the likelihood of last-minute hiccups.
Undertaking the organization of a wedding abroad independently is an unwise decision. Crafting a flawless wedding experience demands intricate knowledge of various nuances and assumes one has the availability to devote significant time. Now envision all the potential challenges that may arise, compounded by the fact that you are in a foreign country without the ability to oversee each aspect personally.
Drawing from the collective experiences of our cherished clients, we wholeheartedly advise every couple intending to exchange vows in a foreign land to seek the guidance of seasoned professionals. This invaluable support will not only save you time, and financial resources but also alleviate any undue stress. If your heart is set on formalizing your union in the enchanting land of Georgia, Shu Wedding agency stands ready to assist you. Rest assured, our service packages are designed to cater to various budgets, commencing at a humble $450.
Now, let us embark upon an exploration of the pivotal stages of wedding planning, meticulously uncovering the optimal timeframes for securing each essential service.
Wedding in Georgia: Optimal Timing for Booking and Planning
In order to bring your wedding dreams to life abroad, we recommend starting the planning process six months prior to your desired date. This will allow you to meticulously craft every detail and achieve perfect coordination. It is crucial to secure the enchanting venue of your dreams and assemble a team of professionals you envision collaborating with.
Six months before your wedding, it is essential to:
Find a reputable wedding organizer with excellent reviews and favorable working conditions. In Georgia, you can always turn to «Shu Wedding» agency.
Discuss your ideas and desires with the agency's managers, listen to their suggestions and proposals, and determine if you are a good fit for each other.
Enter into a contract with the agency. Keep in mind that even in this industry, there are fraudulent entities, so signing an official contract serves as your guarantee against any potential issues.
Prepare the necessary documents.
Decide on the format of your marriage registration: an on-site ceremony or a civil registration at the registry office.
Choose the wedding date and submit an application to the House of Justice.
Discuss the boundaries of your budget.
Create a guest list.
Choose a location for the ceremony (mountains, seashore, pier on the lake, etc.).
Determine the theme and overall style of the celebration.
Four to five months before your wedding, it is crucial to:
Choose your wedding rings, symbolizing your eternal commitment.
Embark on the search for the perfect wedding dress, groom's attire, and attire for the bridesmaids, ensuring a captivating ensemble.
Engage in detailed discussions with your wedding coordinator, finalizing every aspect of the upcoming celebration and commencing their seamless execution.
Find and hire a team of wedding service professionals, including a decorator, florist, makeup artist, hairstylist, photographer, videographer, and master of ceremonies.
Send out wedding invitations, carefully specifying dress codes, event formats, and the option for guests to bring companions.
Create a menu that caters to the preferences of your guests, paying attention not only to delectable cuisine but also to beverages, including alcoholic options.
Secure a venue by either booking a restaurant or organizing catering services.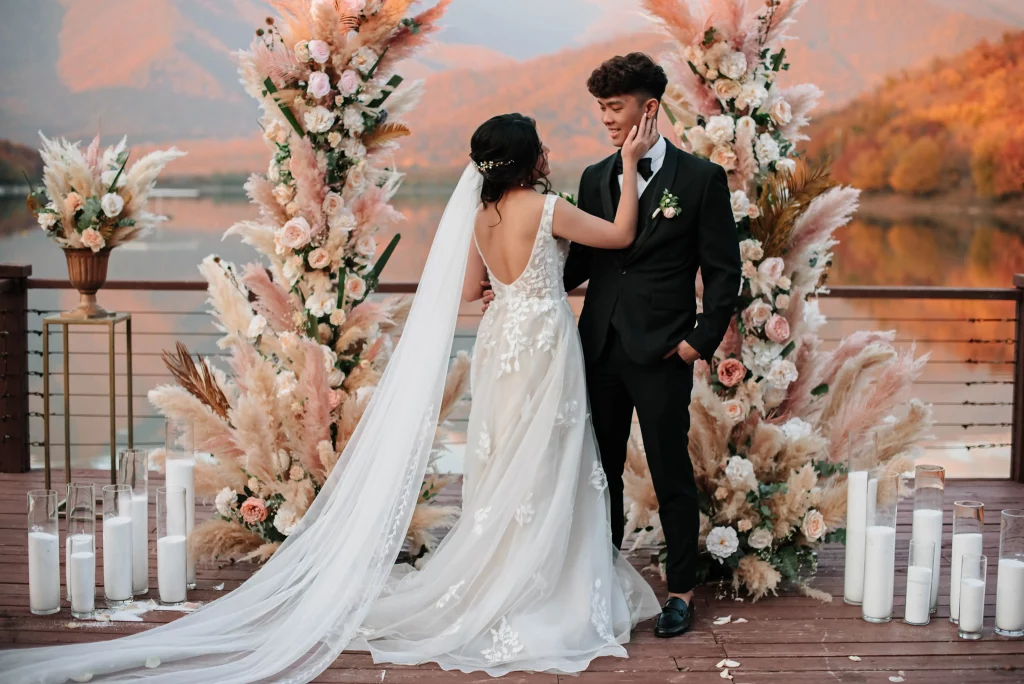 Three to four months before your wedding, it is essential to:
Order your wedding cake from a skilled pastry chef. Consider the season and the venue to ensure a cake that remains flawless, with no melting frosting to dampen the mood.
Collaborate with your master of ceremonies to craft a captivating script and create a precise schedule for the celebration.
Arrange transportation for you and your guests to ensure convenient mobility throughout the event.
Discuss with your wedding planner the musical accompaniment and potential options for entertainment programs.
Conduct rehearsals of your wedding dance with a choreographer to achieve a flawless performance.
Arrange accommodation for your guests and secure hotel rooms in advance.
Curate an engaging entertainment program for your guests.
Consider the presence of an entertainer, especially if there will be more than three children attending the wedding.
One to two months before your wedding, it is essential to:
Validate the reservation of your chosen wedding venue and transportation, ensuring everything is in place for your special day.
Coordinate with the venue provider to finalize remaining organizational details, including the precise start and end times of the celebration and any additional requirements or considerations.
Schedule dress fittings and consider arranging trial sessions for hair and makeup to perfect your overall bridal look.
Craft heartfelt wedding vows to express your love and commitment during the marriage ceremony.
Approve and finalize the seating arrangement for your guests, as well as the placement of photo zones, dance floors, and other key elements.
Confirm the menu selections, considering any dietary preferences and special requests to ensure a delightful dining experience for your guests.
Collaborate closely with your photographer and videographer, outlining your desired shot list and identifying must-capture moments to cherish forever.
In the days leading up to your wedding, it is important to:
Engage in open communication with your wedding planner to address any concerns or questions that may be causing unease.
Review the checklist of preparation steps to ensure that every detail has been accounted for and nothing has been overlooked.
Confirm the readiness and availability of all members of the wedding service team to ensure seamless execution.
Conduct a comprehensive full-scale rehearsal to ensure that all elements and actions during the wedding flow flawlessly.
Update the guest list, taking into account their RSVP responses and finalizing the seating arrangements.
Verify the condition of the wedding attire and accessories, ensuring that everything is ready for use.
Arrange separate pre-wedding celebrations, such as a bachelorette and bachelor party, to spend quality time with close friends before the big day.
Visit a beauty salon to pamper yourself and enhance your natural radiance.
Gather all the necessary documents required for marriage registration, including rings, passports, and other accessories.
Arrive in Georgia, ready to embark on this beautiful journey of love and celebration.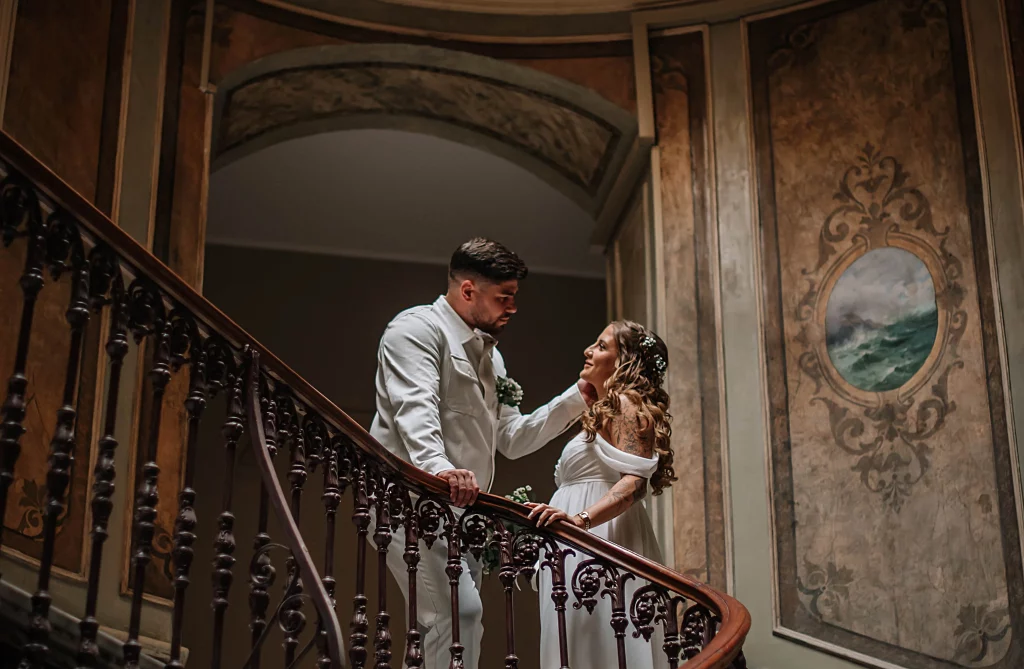 On the day of your wedding, there are just a few remaining tasks for you:
Double-check that the rings and vows are present, ensuring nothing is forgotten.
Allow the professionals, such as hairstylists, makeup artists, and decorators, to work their magic, creating your desired wedding look and ambiance.
Take a moment to relax, savor a glass of champagne, exchange heartfelt vows at the altar, and immerse yourself in the joy and beauty of this unforgettable day of your wedding celebration.
After all these stages, you can finally exhale, for you are now officially married, and all the days of preparation are behind you. All that remains is to obtain your marriage certificate and, of course, your breathtaking wedding photos.
A wedding is always filled with excitement, and as you enter into marriage, you want to believe that it is forever. That is why it is particularly important to ensure that this day remains a fairytale in your memory, rather than a nightmarish experience. It is precisely for this reason that the experts at «Shu Wedding» agency devote so much time to every detail and strive to make everything possible, ensuring that you are the happiest couple on this day!
We organize weddings in Georgia , for any budget and wishes. With us, you won't have to think about how to organize your event or what documents you'll need. Georgia has simple laws and quick administrative resources, all you need for your dream wedding is your passports, we do the rest for you.