Throughout human history, the attitude towards marriage has been changing from a mere agreement that often served as a subject of trade or sealed a business deal to a romantic event in the lives of lovers. The difference between these two concepts is simply enormous, isn't it? Even today, the idea of how the wedding registration should take place and its significance continues to evolve.
Among the couples, there are two well-defined groups:
The first ones consider marriage primarily as a legal process, and they are more concerned about this aspect of the matter. They are not interested in outdoor ceremonies, picturesque photo shoots, or original wedding decor, and they are thrilled about the possibility of getting married in Georgia in 24 hours. For such couples, we have two wedding packages: «Shu Apostille» and «Shu Legalization», priced at $500 and $575, respectively. For this amount, you can officially tie the knot in the House of Justice in Tbilisi.
The second ones are couples who believe that a wedding is a great celebration and want to organize everything at the best way. They care about the location, the season, the decor, the makeup, the photographer, and so on. These are our most demanding but also the happiest customers ever. For them, we can offer the «Shu Offsite Wedding» and «Shu All Inclusive» packages, starting from $2,450 and $2,990 respectively.
However, both groups often have doubts about whether it's worth taking such a risky step as getting married in another country. In order to clarify all the details, we have prepared the answers to the most frequently asked questions about weddings abroad.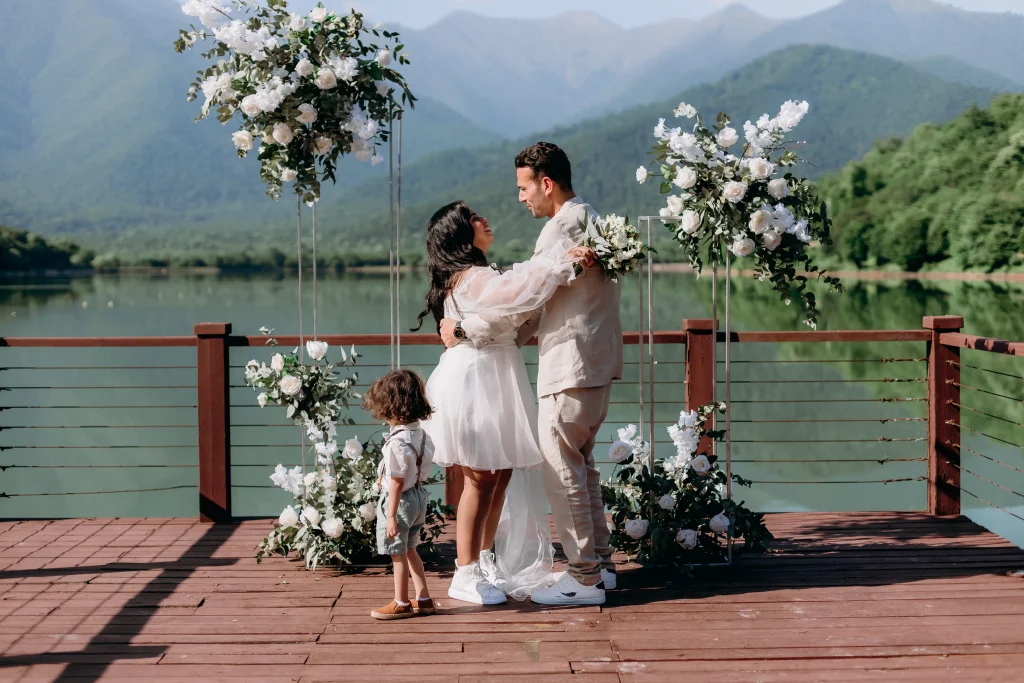 Is it legal to get married abroad?
The legality of getting married in another country depends on many factors, including the legal requirements of the specific country, the necessary documents for marriage, and the procedures related to residency. Therefore, it is important to thoroughly research and understand all legal aspects of the wedding ceremony in the chosen country, as well as to ensure compliance with them.
To get married in Georgia, it is enough to arrive in the country, be of legal age, have no obstacles in the form of previous valid marriages, and have a valid foreign passport. It is worth noting that a marriage concluded in Georgia is legally valid worldwide.
Wedding planning in another country without being physically present – is it possible?
To plan a wedding abroad without personal presence, you will need the assistance of a professional wedding planner. «Shu Wedding» can be your professional helper in Georgia. Our managers will assist you at every stage of wedding planning, including choosing a venue, coordinating the contractors and logistics. Communication with us can take place remotely through video calls, audio, text messages, and email. Any convenient way is acceptable to us.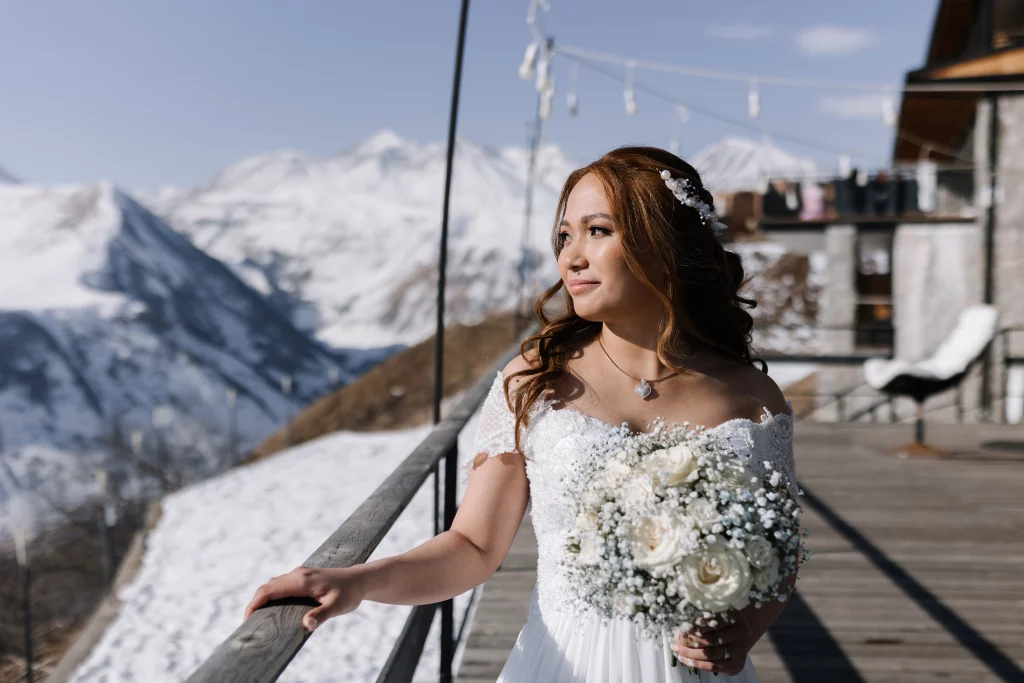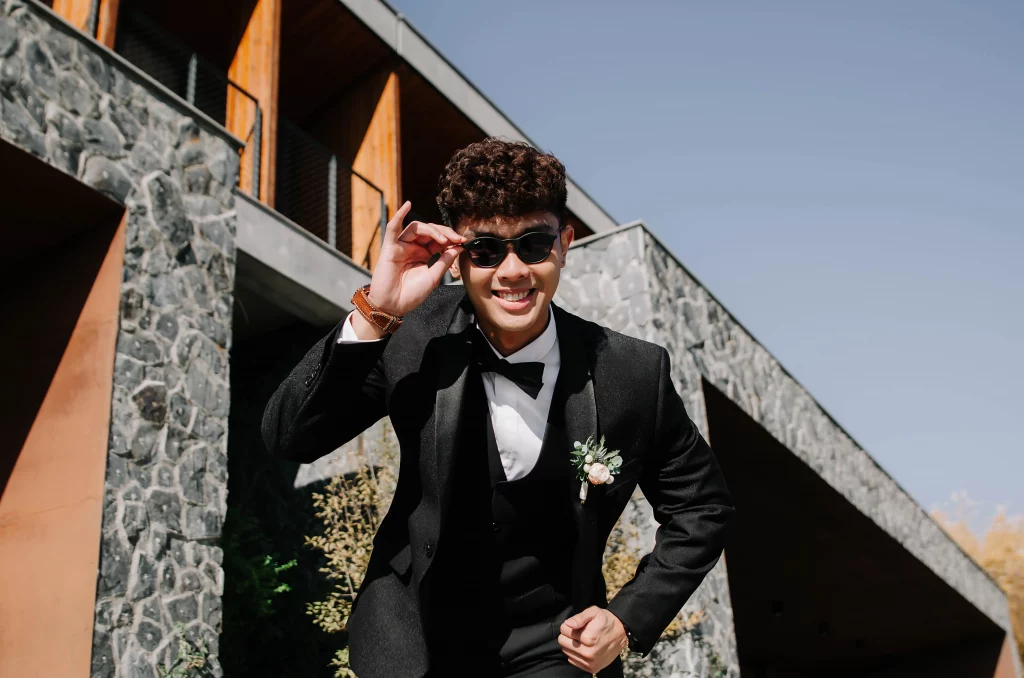 What are the expenses involved in having a wedding abroad?
The expenses for registering your marriage abroad can be divided into two categories: general and specific:
General expenses include all the costs that accompany any wedding, such as government fees, wedding attire, dinner, cake, invitations, musicians, venue rental, hair and make-up, photography, and so on.
Specific expenses are directly related to the need to travel to a remote location, for example, plane tickets, payment for services related to the marriage of foreigners (mediator, translator, document translation, apostille, etc.), rental of housing, car rental, additional expenses you're your guests if you are covering their flight, accommodation, and entertainment costs.
The final budget always depends on you, and if you want to reduce it, it is always possible.
Is a language barrier an obstacle when organizing a wedding abroad?
It all depends on the location of the celebration and whether you are organizing the wedding yourself or have hired a local wedding planner. If you have chosen Georgia, there is a sufficient number of people who speak English to some extent, especially in major cities such as Tbilisi or Batumi, and a large percentage of the population also speaks Russian. This can somewhat facilitate your communication with local service providers. However, if the organization of your wedding is being handled by the «Shu Wedding» agency, we take care of all negotiation processes independently, and you maintain the contact with us only.
It is safe to organize a wedding abroad?
When it comes to the safety of organizing a wedding in another country, it's important to consider the level of crime and the general situation in that country. In the case of Georgia, a European country, it's considered one of the safest for tourists. General precautions such as not carrying personal valuables, keeping an eye on belongings, avoiding unclear situations, and not visiting unfamiliar places at night time will help maintain safety during the trip.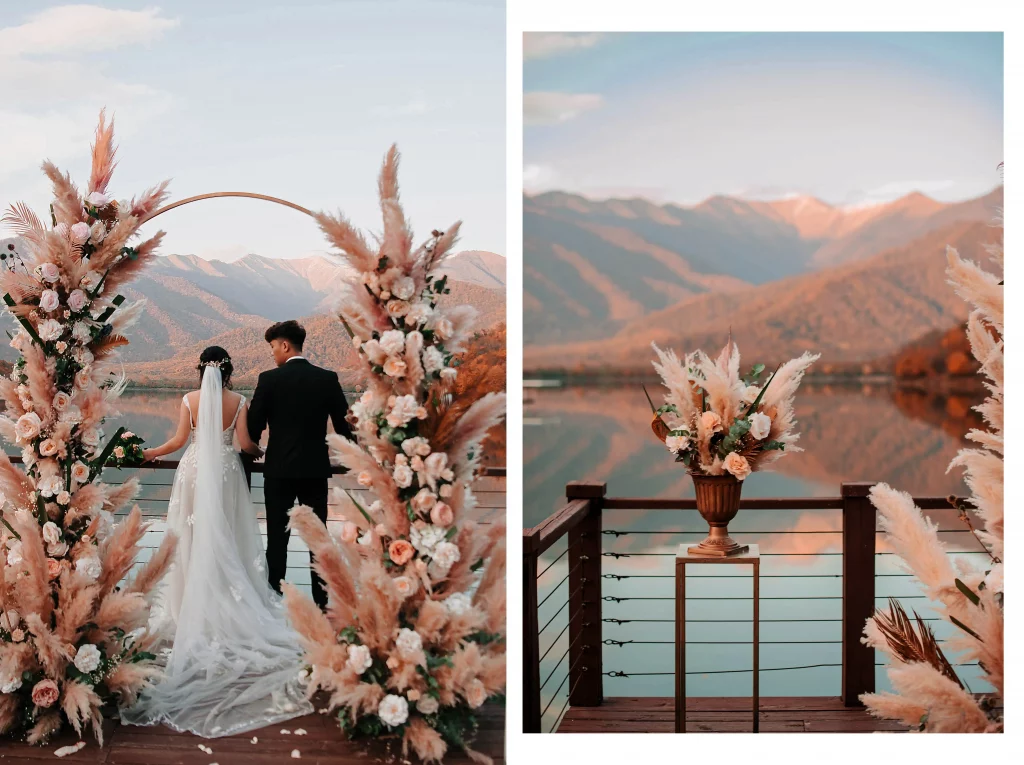 However, to avoid fraud during the wedding preparation, it's important to work with reliable intermediaries only who will guarantee the quality and execution of all the conditions.
How far in advance should you plan a wedding abroad?
The timeframe depends on the scale of your celebration, and on average, it can be outlined as follows:
6 months are needed to organize an outdoor wedding ceremony with guests in a picturesque and popular location.
2 months are required to prepare everything necessary for a small cozy wedding.
2 days is the optimal time for preparing the wedding just for two of you.
Anyway, is better to start preparing in advance and allocate enough time for all necessary arrangements.
In conclusion, it is worth noting that registering a marriage in Georgia is not only an opportunity to save money and get married quickly, but also a wonderful chance to organize the wedding of your dream and spend time in an amazing country full of unique traditions and breathtaking views.
To learn more about weddings in Georgia for foreign couples, do not hesitate to contact the managers of the «Shu Wedding» agency – we are always ready to assist you with any issue.
We organize weddings in Georgia , for any budget and wishes. With us, you won't have to think about how to organize your event or what documents you'll need. Georgia has simple laws and quick administrative resources, all you need for your dream wedding is your passports, we do the rest for you.