When organizing a wedding, choosing a venue is one of the most important things. The overall atmosphere of the wedding and, of course, the colorfulness of your memories depends on the location.
Shu Wedding Agency has been organizing weddings for foreigners in Georgia for several years, and we know that the requests of couples are very different: from a modest wedding ceremony in the Wedding Palace and a table for two in the nearest cafe to a grand outdoor ceremony in the mountains with a few dozen guests, photographer, and designer decor.
When you decide to have your wedding in Georgia, you will have a huge choice of venues for your wedding ceremony. And its choice will depend only on you and your wishes.
Georgia is therefore attractive to foreign couples, as it gives the opportunity to choose a place for every taste and budget.
Places to get married in Georgia 2023
There really are many places in Georgia whose beauty is breathtaking and could be the perfect location for your wedding.
- Lake wedding (lakes Tobavarchili, Ujiro, Korulditis, Abudelauri, Kelitsadi, Bateti, Oreti, Shavi Kldebi and others)
- Wedding in a castle (Rabat Castle, Bagrata, Royal Batoni Castle Hotel)
- Wedding in a forest (Sabaduri forest, botanical garden or a park in Tbilisi or Batumi)
- Wedding indoors (restaurants, cafes, hotels in Tbilisi, Batumi, Sighnaghi and Kakheti)
- Wedding on the beach (beaches in Kvariati, Gonio, Sarpi etc.)
- Church wedding (Catholic, Orthodox and Muslim rites)
- Outdoor weddings (mountains, rivers, piers, etc)
- Wedding in vineyards (Khareba Winery, Teliana Valley, Tsinandali Estate)
- Tbilisi (ancient buildings, chic restaurants, beautiful views)
- Terraces in Georgia (Sofiko, Nefele Sky Bar and Restaurant, Terrace Kazbegi)
- Weddings in the mountains of Georgia (stay in a hotel or have your wedding in a church with a view of the mountains)
- Chateaux in Georgia (Mukhrani, Lilo, Zegaani and others)
- Sighnaghi (an insanely beautiful city in eastern Georgia, with black beaches and medieval architecture)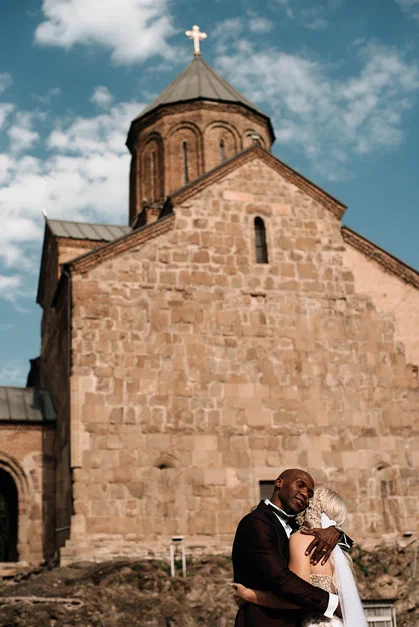 If you're choosing the location of the wedding in Georgia, "Shu Wedding" agency advises to take into account:
- Time of year
- Weather forecast for the next few days
- Distance from big cities
- Theme of the wedding
- Your budget
- The total number of guests
- Availability of hotels and restaurants nearby
- Location booking possibility
- Restrictions that may be imposed by the administration of the chosen venue
- Preparation time
In order to find the perfect place for a wedding in Georgia, you should consult with an expert, because being outside the country is sometimes difficult to understand the nuances and characteristics of the organization of the wedding in a particular place.
Wedding venues in Georgia with prices
When contacting us for a consultation or to arrange a wedding in Georgia, we are often asked for specific prices for a wedding in a particular location.
However, you should be aware that the cost of a wedding depends directly on your wishes. We offer three standard packages:
- Small wedding – $500/575
- Outdoor wedding ceremony – $2,450
- All-inclusive wedding – $2,990
To find out the price of a wedding in a vineyard, chateau, or castle, contact us and we will calculate the exact cost of the event, taking into account your individual wishes.
The cheapest option for a wedding in Georgia would be: The ceremony is held in the city you are flying to, most often Batumi or Tbilisi. Marriage registration without an offsite ceremony and a small solemn part in one of the restaurants in the city.
When calculating the cost of the wedding you should consider the cost of tickets to fly to Georgia, the number of guests, whether it is wedding season, and the urgency of the organization.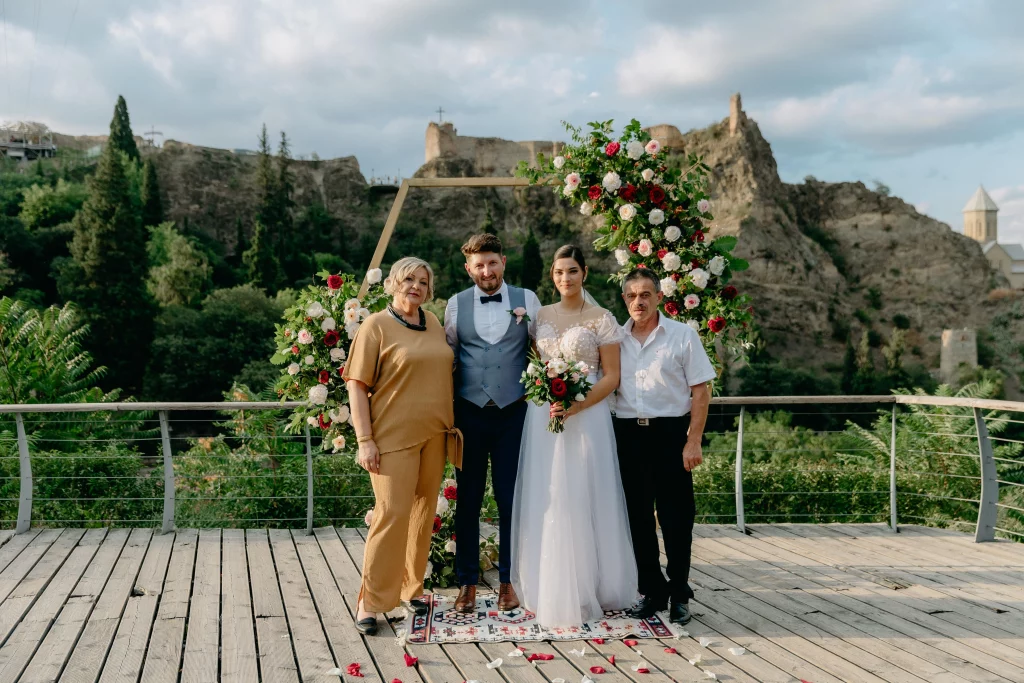 If you have always dreamed of a wedding in the mountains, on a lake or on a terrace with a view that takes your breath away, do not think that it will necessarily cost very expensive, with enough diligence you can find a beautiful option for a reasonable price.
The wedding agency "Shu Wedding" advises you not to put off planning your wedding until later, as the best wedding venues in Georgia are booked months in advance. Don't miss your chance to have a gorgeous wedding in your dream location!
We organize weddings in Georgia, for any budget and wishes. With us, you won't have to think about how to organize your event or what documents you'll need. Georgia has simple laws and quick administrative resources, all you need for your dream wedding is your passports, we do the rest for you.
The wedding agency "Shu Wedding" advises you not to put off planning your wedding until later, as the best wedding venues in Georgia are booked months in advance. Don't miss your chance to have a gorgeous wedding in your dream location!