If you are seriously inclined towards organizing a wedding abroad, let us, in partnership with the «Shu Wedding» agency, transform your dream into reality in Georgia.
We have spoken about this on multiple occasions, and will never tire of emphasizing that Georgia is the ideal place for foreign couples to register their marriage. Our words are supported by substantial arguments. For instance:
If you still have doubts about choosing the location for your upcoming wedding, our wedding packages will help you finally confirm the wisdom of your choice.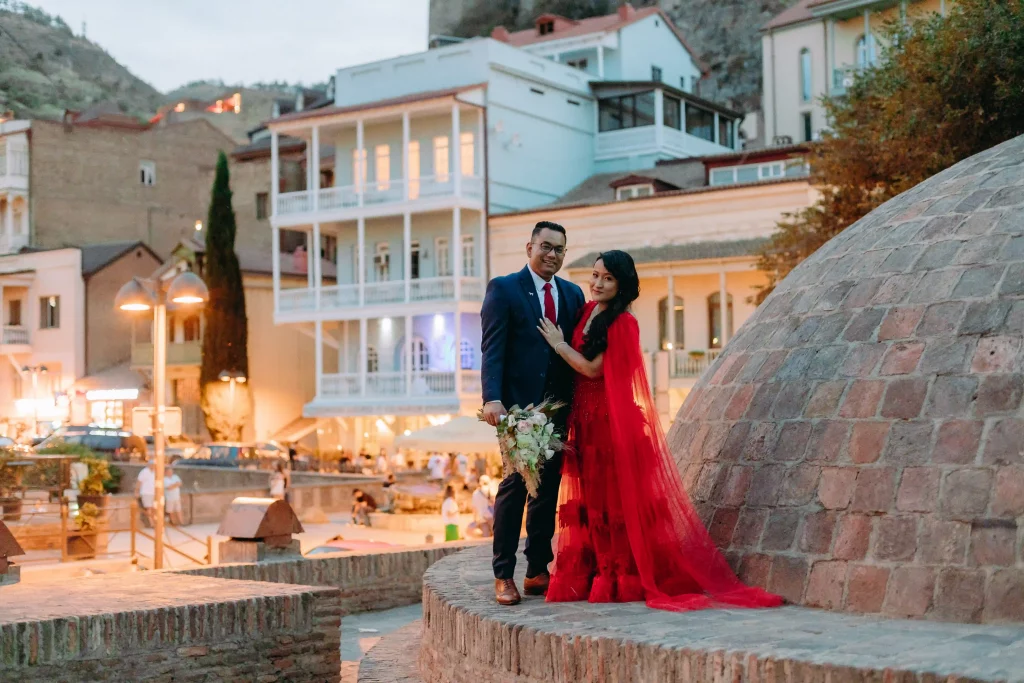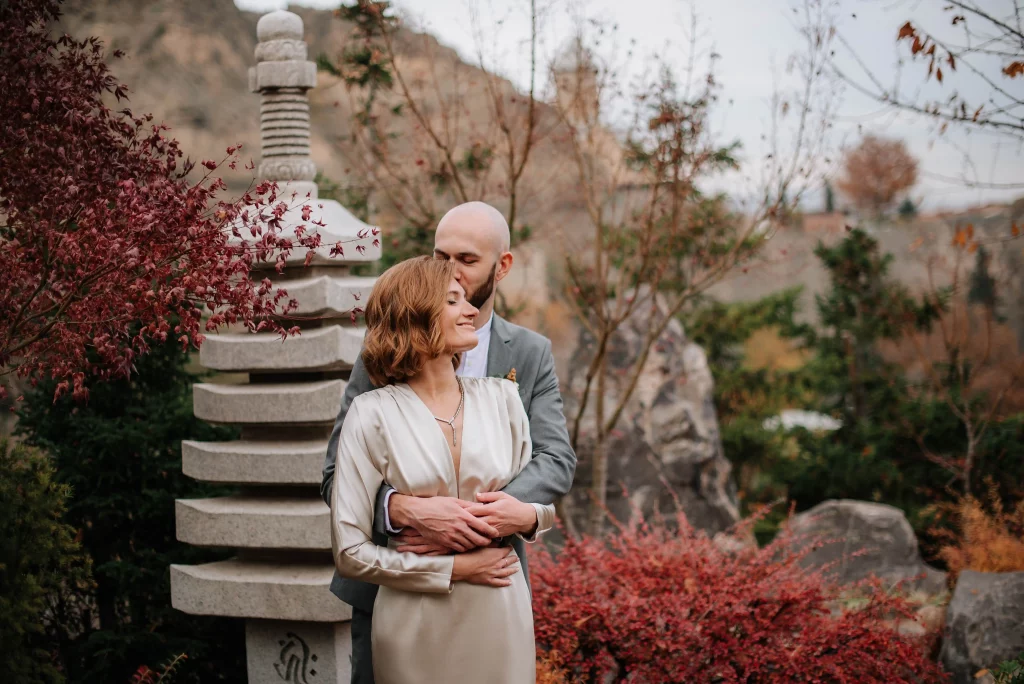 Wedding packages for foreign couples
When a loving couple turns to our wedding agency, an enchanting journey into the realm of their dream wedding begins. We discuss every detail: the season, location, style, guest count, decorations, menu, photographer, and even the tiniest accessories.
It's important to understand that we never create two identical weddings. For each couple, we craft a unique scenario where every note harmoniously blends with their dreams. Our organizers even tend to the smallest details, such as boutonnieres. We strive for everything to be flawless on this special day.
While we could recount every wedding we've orchestrated, it would consume too much of your time. Therefore, we've prepared several standard wedding packages to provide you with an idea of how your wedding in Georgia can unfold.
Let's categorize our packages into several categories:
Budget wedding packages.
Off-site wedding packages.
All-Inclusive wedding packages.
Budget wedding packages in Georgia
A budget wedding is an excellent choice for those who want to save money and tie the knot in the shortest possible time.
With this package, your wedding will start from $450. We will assist you with all the bureaucratic aspects of getting married in Georgia, including apostille and document legalization if necessary.
Our staff will be with you at the registry office, helping with all the formalities. Reliable, budget-friendly, and swift – sounds like an offer you can't refuse.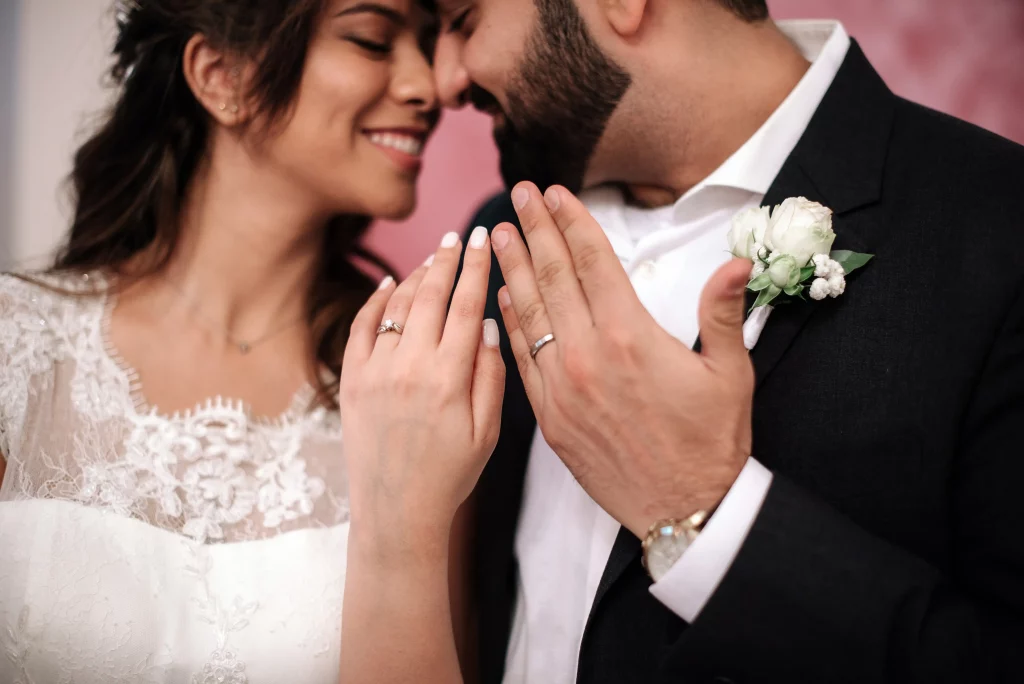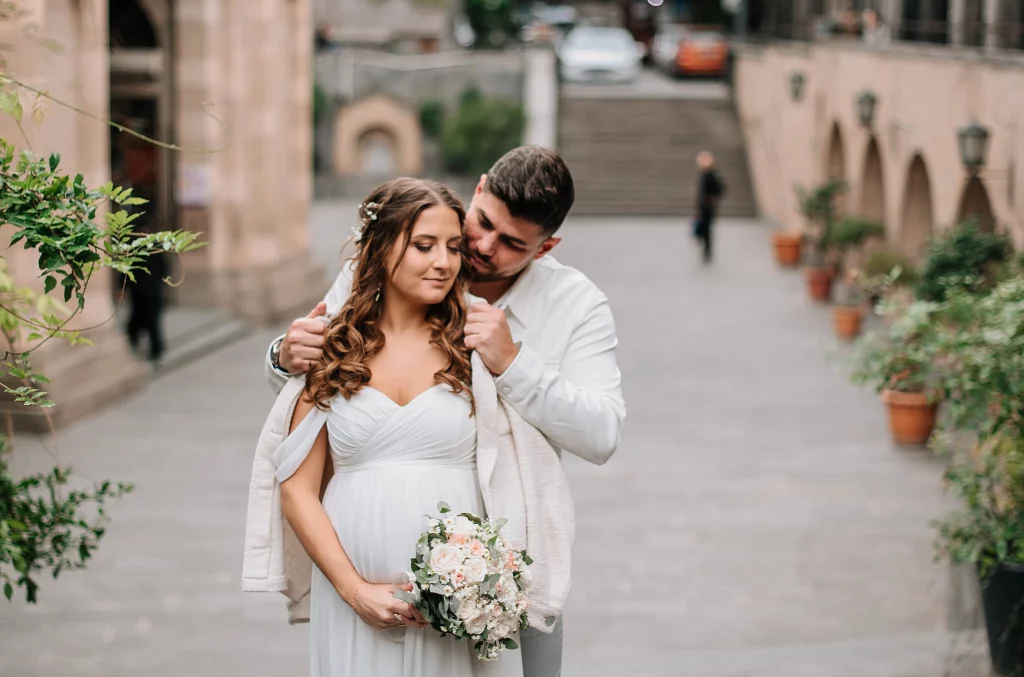 Wedding packages for outdoor ceremonies in Georgia
These are among our favorite options. In our agency, we always cherish the opportunity to organize weddings in unique and extraordinary locations.
We have a plethora of offerings for foreign couples who dream of having their ceremony in unusual places.
Among the finest locations in Georgia for the outdoor wedding ceremony are:
Choosing between these two splendid venues is always a delightful challenge, as both options are truly luxurious and offer a wide range of entertainment to suit every preference. You can indulge in spa treatments before your wedding or enjoy active leisure activities after your celebration.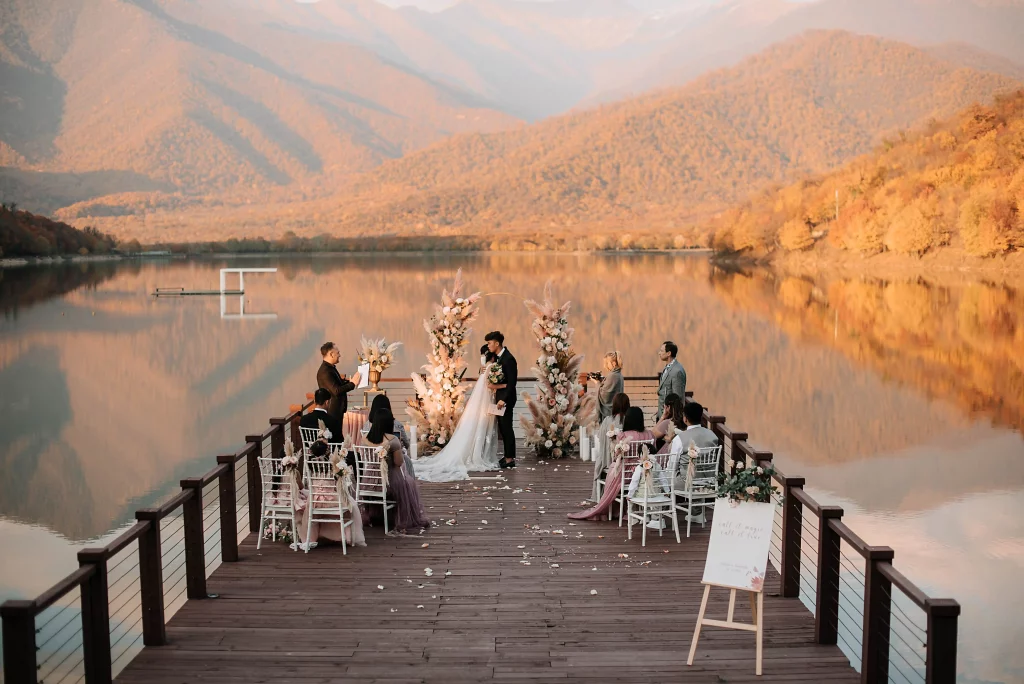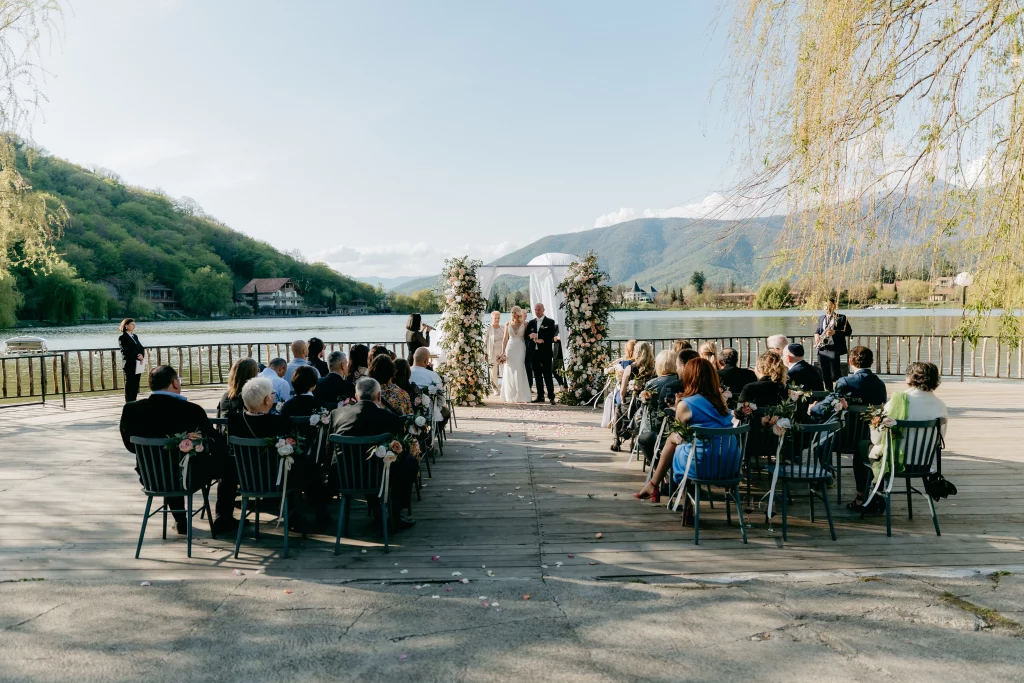 If you've always harbored the dream of exchanging vows in the embrace of majestic mountains, then Rooms Hotel is the idyllic venue that not only grants you the privilege of basking in awe-inspiring vistas but also ensures your complete comfort throughout the celebration.
Moreover, in the vicinity of the hotel lie several enchanting locales, including the Trinity Church, the Arch of Friendship, the ancient Uta, and the charming village of Sno. Each of these places is bound to leave an indelible impression.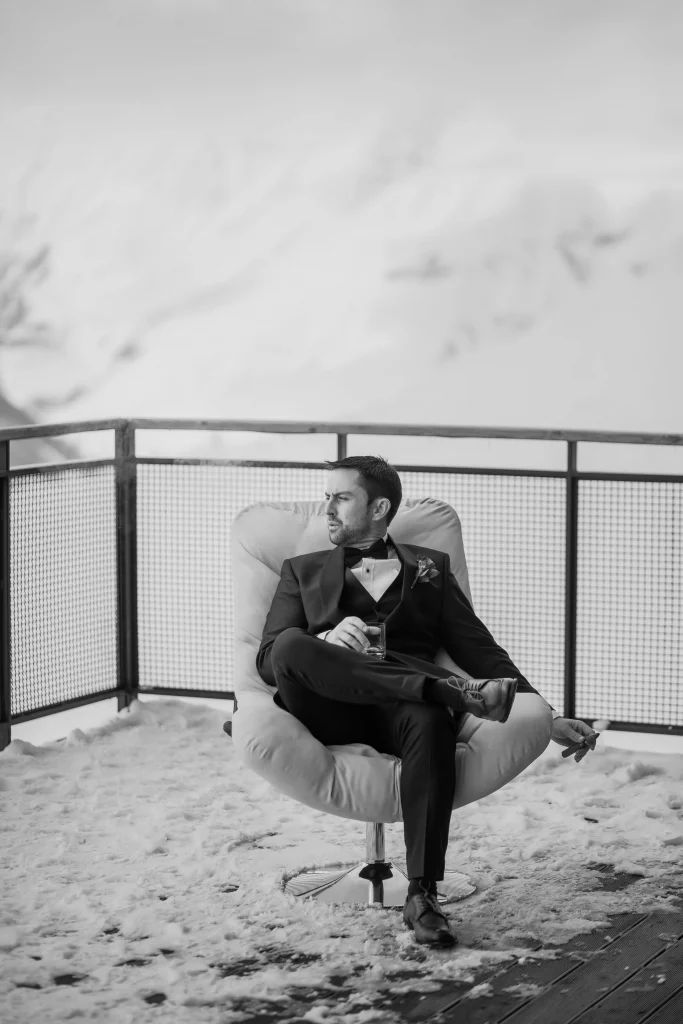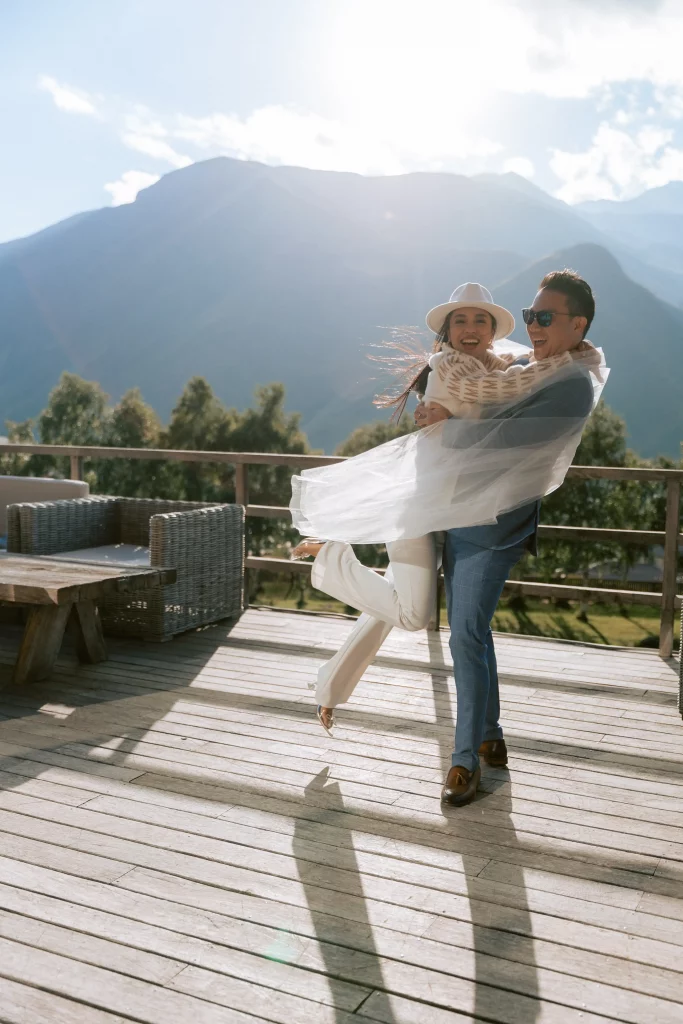 Beholding the renowned Georgian vineyards and experiencing the inner workings of a genuine winery is a cherished aspiration for many. And why not intertwine this aspiration with your wedding day? It is an entirely attainable dream. Vazisubani Estate epitomizes the essence of Georgia, an estate where its ambiance sends shivers down your spine. The moment you set foot here, you'll be enveloped in a warm embrace, and undoubtedly, you'll find it difficult to bid farewell to this cozy haven.
Within these grounds, you'll not only encounter vineyards and savor the authentic flavors of local wine but also stumble upon the perfect embellishments for your wedding. It's simply impossible not to fall in love with this place!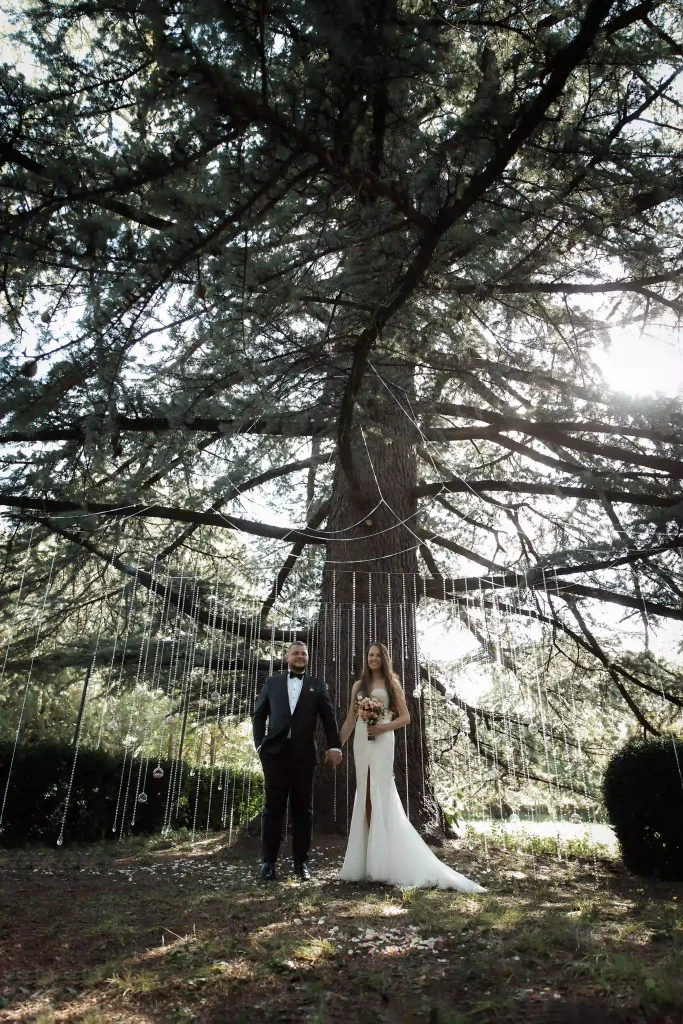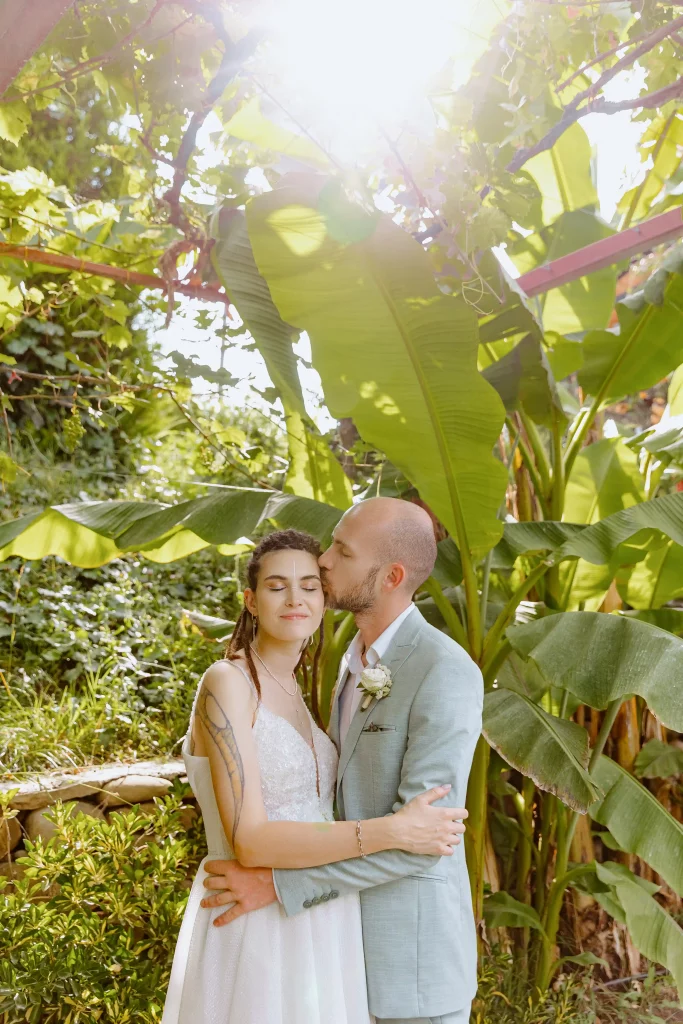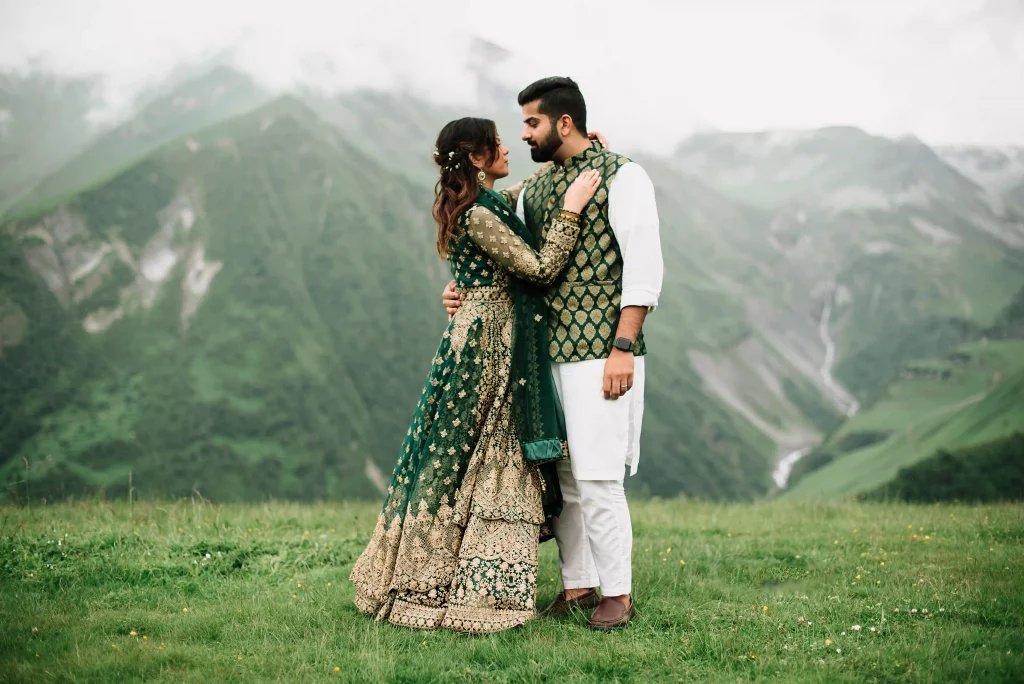 You may host such a majestic event in any of the mentioned locations or choose a place that suits your taste. The undeniable advantage of selecting this wedding package is that you won't have to worry about a thing – a team of professional wedding planners will take care of every detail. This will allow you to fully relax, focus on choosing your wedding attire, send out invitations at your leisure, and thoroughly enjoy the final result.
Each of the listed wedding packages provides only a general idea of how your destination wedding can unfold. For sure, discovering all the details will take much more time. We suggest not wasting it and contacting a manager of «Shu Wedding» agency right now. We are happy to share all the nuances, answer all your questions, and guarantee the organization of the wedding that will leave you delighted!
*Citizens of 94 countries do not require a visa to travel to Georgia. Please check with the embassy to confirm whether your country is on this list.
We organize weddings in Georgia , for any budget and wishes. With us, you won't have to think about how to organize your event or what documents you'll need. Georgia has simple laws and quick administrative resources, all you need for your dream wedding is your passports, we do the rest for you.