A wedding in a hot air balloon in Georgia is a dream that soars into the sky, enveloping the couple in a magical balloon of secrets and romance. With each passing year, couples' desires become more exotic, and a beach wedding, which once seemed fantastic, no longer surprises anyone. Of course, the beauty of beaches or mountains with breathtaking views has not diminished over the years, but many couples want something truly extraordinary for their wedding day. That's why they often turn to us with the request for an «unusual wedding in Georgia.»
When our agency's managers face this phrase, the process of understanding what the couple envisions as «unusual» begins. Our standard packages include weddings in the mountains, at Lopota or Kvareli lake, and outdoor ceremonies with snowy mountain photoshoots. For most couples, these options are already «unusual» enough, and they choose one of these locations.
However, among the couples we have worked with, there are true connoisseurs of uniqueness who genuinely want to organize a wedding in Georgia like no other. Specifically for them, we have developed the concept of a wedding in a hot air balloon. It is a remarkable journey where lovers ascend into the embrace of the blue sky, to a place where their love can freely soar. We carefully plan each stage of this extraordinary wedding expedition, starting from takeoff and weaving in a romantic vow exchange ceremony. Time will stand still for a moment as you float among the clouds, surrounded by the incredible beauty of Georgian nature. The photographs and videos captured during this adventure will become eternal witnesses of your love, conveying the emotions and excitement you experience on this heavenly journey.
A wedding in a hot air balloon in Georgia is an opportunity to fulfill your dreams of boundless freedom, romance, and extraordinary experiences. Our team of specialists will gladly take care of organizing this unique event, ensuring that your wedding in a hot air balloon becomes an unforgettable moment that will shine in your heart forever.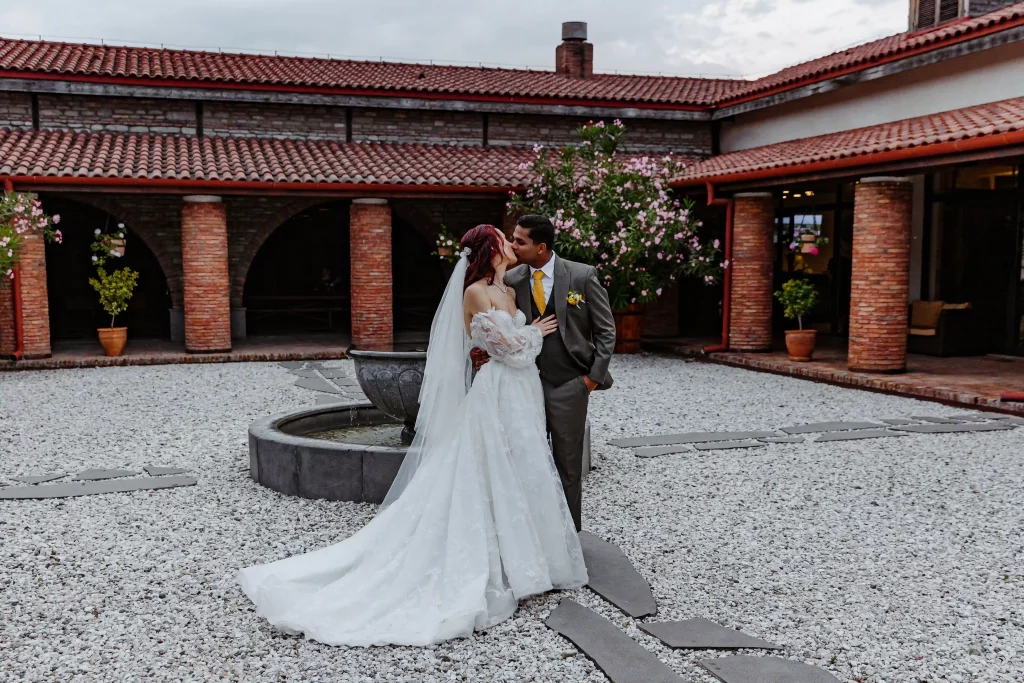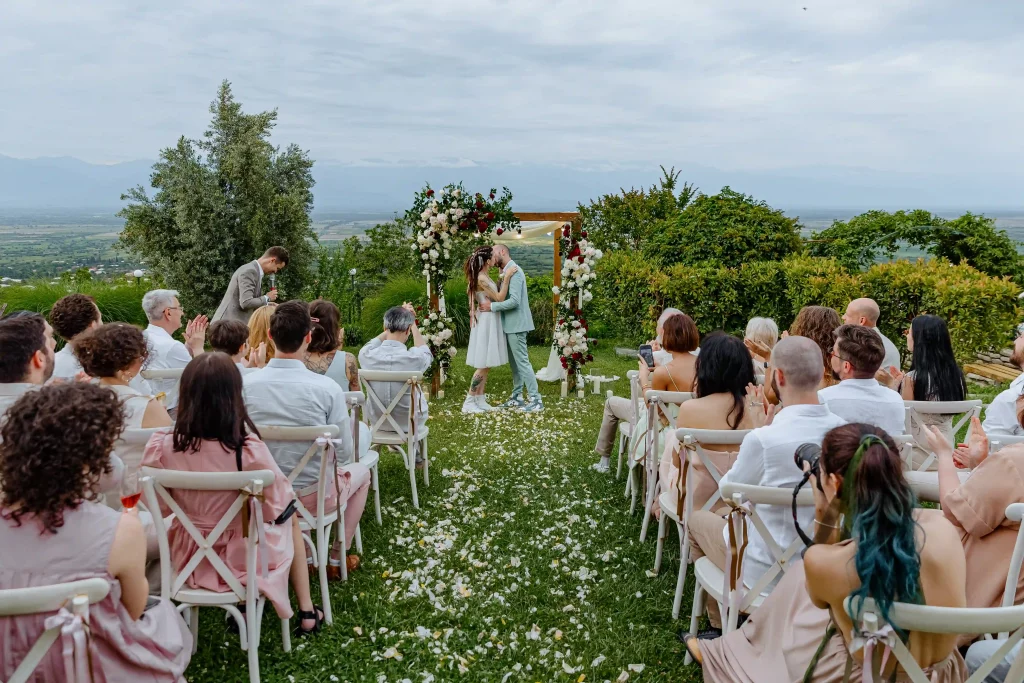 Wedding in a Hot Air Balloon in Georgia
When you hear the phrase «hot air balloon,» the first association that may come to mind is Turkey and its world-famous Cappadocia. However, it is a misconception to think that observing or riding in hot air balloons is only possible in Turkey. That is far from the truth.
In Georgia, while you may not find as many balloons as in Turkey, the allure and excitement surrounding them are less intense. This means that obtaining a hot air balloon for your exclusive use, even for a few hours, is significantly easier. And most importantly, the aerial views in Georgia are arguably even more breathtaking than in Cappadocia.
To organize such an extraordinary wedding, two locations can be considered: the region of Kakheti and Tbilisi. Rest assured that neither of these options will disappoint you. Just imagine exchanging vows amidst the gentle sway of a hot air balloon, surrounded by the enchanting landscapes of Georgia. The sprawling vineyards of Kakheti or the captivating cityscape of Tbilisi become the backdrop for your love story, taking it to new heights, quite literally.
As the balloon ascends, you and your partner will be embraced by a sense of tranquility and awe. The panoramic vistas that unfold before your eyes are a testament to Georgia's natural beauty, showcasing its majestic mountains, lush valleys, and captivating architecture. This extraordinary experience offers more than just a wedding ceremony; it becomes a remarkable adventure, an ethereal journey shared with your beloved and cherished guests. The memories created during this breathtaking aerial celebration will be etched in your hearts forever.
We truly suggest you to consider the magic of the wedding in a hot air balloon in Georgia, where the possibilities seem endless, and love takes flight amidst the enchanting skies.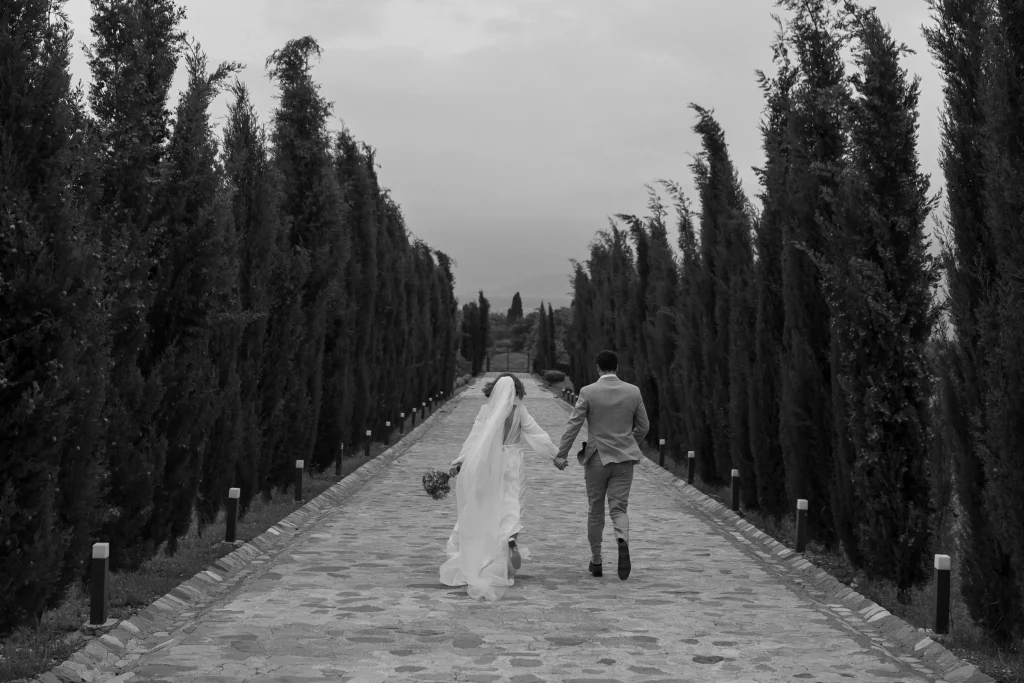 Stages of organizing the wedding in a hot air balloon in Georgia
The wedding of this kind is undoubtedly different from a traditional wedding ceremony, and planning the process comes with its own nuances and stages:
Discussion: Communication with the couple constitutes 70% of the preparation for any wedding, especially when it involves getting married in another country. At this stage, it is crucial to explain to the bride and groom that a wedding in a hot air balloon has its peculiarities, and one of them is the fear of heights. If you have a fear of heights, it is essential to carefully consider whether you want to experience psychological stress during such a significant moment. If the answer is «no,» it may be better to contemplate a wedding in a more comfortable setting.
Concept: The hot air balloon is just one element of the wedding day, and it is not enough to simply decide that you want it. It is necessary to carefully plan all the stages, logistics, decor, the actual process, and countless other details.
Budget: Your desires should align with your financial capabilities. If you find yourself sacrificing other aspects of the wedding to fulfill the sole desire of a hot air balloon ride, it is worth reconsidering. Perhaps you have misplaced your priorities, and another celebration scenario would suit you better.
Hot Air Balloon renting: Once all the details are settled, you can proceed with renting the hot air balloon. We will provide you with several options to ensure you have an ample selection.
Ceremony: On this exhilarating day, we will be by your side. Our task will be to make you feel special and confident that everything will go exactly as planned. We will take care of you and all the details of the celebration.
A wedding in a hot air balloon is a truly unique and unforgettable experience. It combines the breathtaking beauty of Georgia's landscapes with the excitement of soaring above it all. The team of «Shu Wedding» agency will ensure that your dream wedding in a hot air balloon becomes a reality, filled with love, joy, and cherished memories that will last a lifetime.
Pros and cons of the wedding in a hot air balloon
There is no perfect wedding location, and each venue has its own advantages and disadvantages. It is important to be aware of these factors in advance, weigh the pros and cons, and make an informed decision. A wedding ceremony in a hot air balloon is no exception.
Pros:
Uniqueness: A wedding in a hot air balloon offers a distinctive and memorable experience.
Scenic views: You can enjoy breathtaking aerial views and a romantic atmosphere.
Intimacy: The private setting creates an intimate and romantic ambiance for you and your partner.
Cons:
Weather dependency: The wedding plans can be affected by weather conditions, leading to potential rescheduling or cancellations.
Limited capacity: Hot air balloons have limited space, which may restrict the number of guests and wedding setup options.
Fear of heights: Individuals with a fear of heights may feel uncomfortable or anxious during the balloon flight.
Considering these factors will help you make an informed decision based on your preferences and comfort level.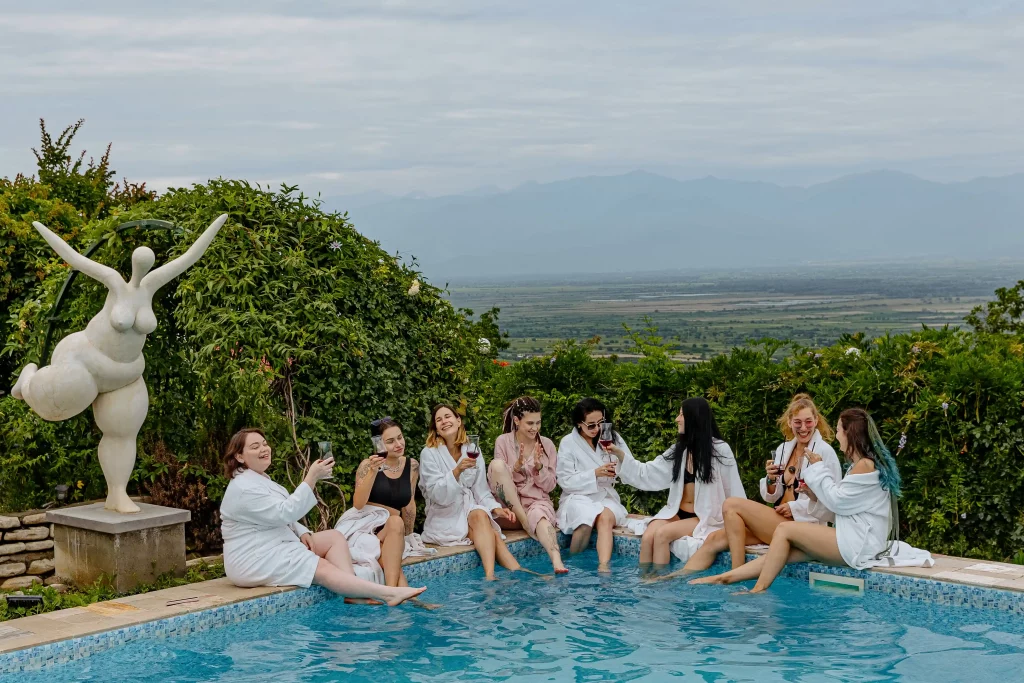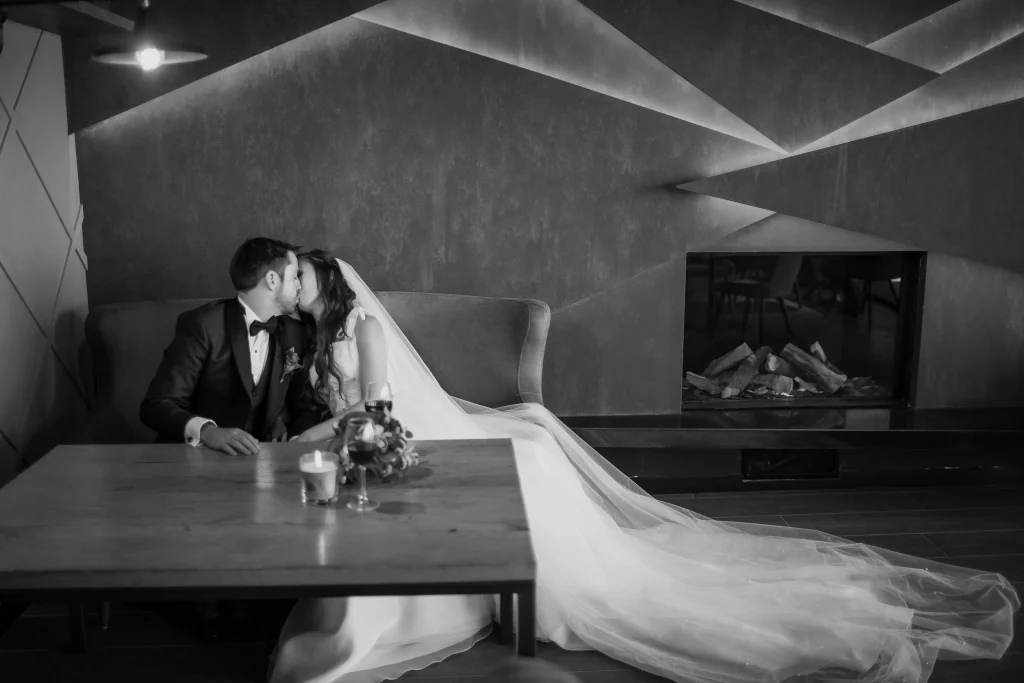 As you can see, there are both advantages and disadvantages to such a celebration, so the final choice should be yours for sure. However, we still recommend you to get in touch with our agency's managers to clarify all the details.
The wedding in a hot air balloon in Georgia offers an incredible opportunity to create vivid memories while sealing your relationship officially. You don't need to exert serious efforts for this; simply entrust the organization of the celebration to the experts of «Shu Wedding» agency and enjoy the «fruits» of our joint efforts. Don't be afraid to take a leap and make your wedding truly unforgettable!
We organize weddings in Georgia , for any budget and wishes. With us, you won't have to think about how to organize your event or what documents you'll need. Georgia has simple laws and quick administrative resources, all you need for your dream wedding is your passports, we do the rest for you.