Georgia is a country that boasts numerous advantages and merits, which attract thousands of foreign couples to tie the knot here. Besides the obvious benefits, such as the minimal package of necessary documents for marriage, the possibility to register a marriage within 24 hours, and the financial accessibility of all wedding services, Georgia also offers another significant advantage — a mild climate.
Although Georgia is not a tropical country with temperatures exceeding 30°C year-round, it does not have the heat, rainy season, and other unpleasant nuances of the tropics. The temperature in Georgia, even in winter, almost never drops below zero, which means that even during this time of the year, everyone can feel quite comfortable.
Such a climate allows for not being limited to a particular season or month for a wedding in Georgia and finding an excellent option at any time of the year. Therefore, if you are planning a wedding, Georgia is a beautiful place that will not leave you indifferent.
Winter Wedding in Georgia (December, January, February)
Many couples we have worked with have had a prejudice about getting married during the winter months. However, it's important to understand that your perceptions and reality may differ significantly in this regard. To truly understand what a winter wedding in Georgia entails, it's best to consult with someone who can answer your questions and tell you what to expect. For example, you can turn to the wedding specialists at «Shu Wedding» agency for such advice.
As you may already know, winters in Georgia are typically not very cold, with temperatures rarely dropping significantly below zero. However, the Caucasus Mountains are located in several regions of the country, and during winter, they take on an even more majestic and awe-inspiring appearance.
Couples who want to get married during the winter months usually choose one of two options – a wedding in the mountains or at a resort complex such as Lopota Lake Resort or Kvareli Lake Resort.
A winter wedding can look particularly atmospheric and stunning, and all it takes is entrusting its organization to the professionals.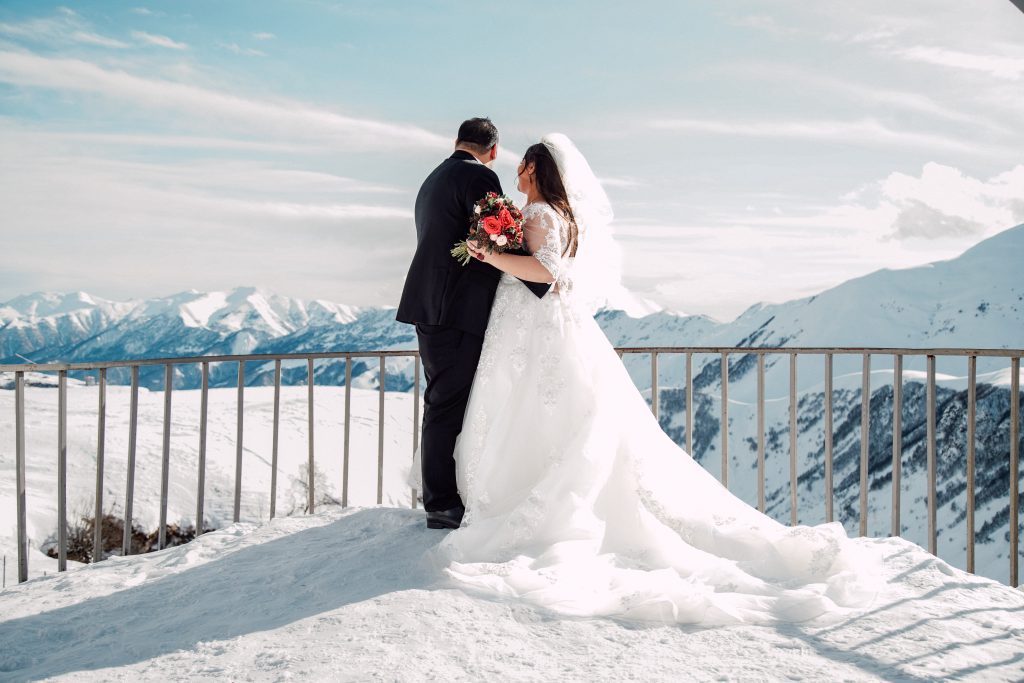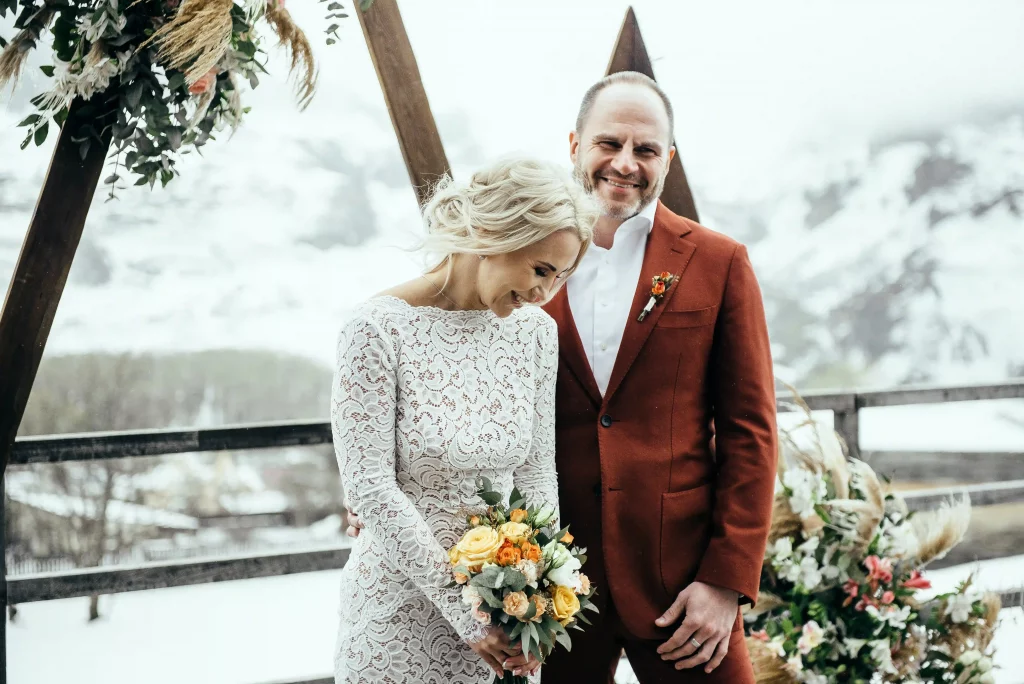 Wedding in Georgia in spring (March, April, May)
Spring in Georgia is a wonderful time for wedding celebrations, and many of our customers agree with this statement. There are several reasons for this:
The weather and natural conditions. The weather at this time of year is enchant with their beauty and abundance of greenery. If you dream of a wedding among picturesque natural landscapes, then spring is the perfect time to make this dream come true.
Less demand. The wedding season in Georgia is traditionally considered to be summer, and there is a huge demand for beautiful locations and all related services during this period. Therefore, if you do not want to wait, book everything several months in advance or settle for what is left, then choosing spring will be the best option.
Cost. It is worth mentioning the more affordable cost of some services during this time of year compared to summer, when the wedding season is in full swing.
For spring wedding celebrations, we offer couples a variety of location options, from wineries and chateaus to botanical gardens and other beautiful places.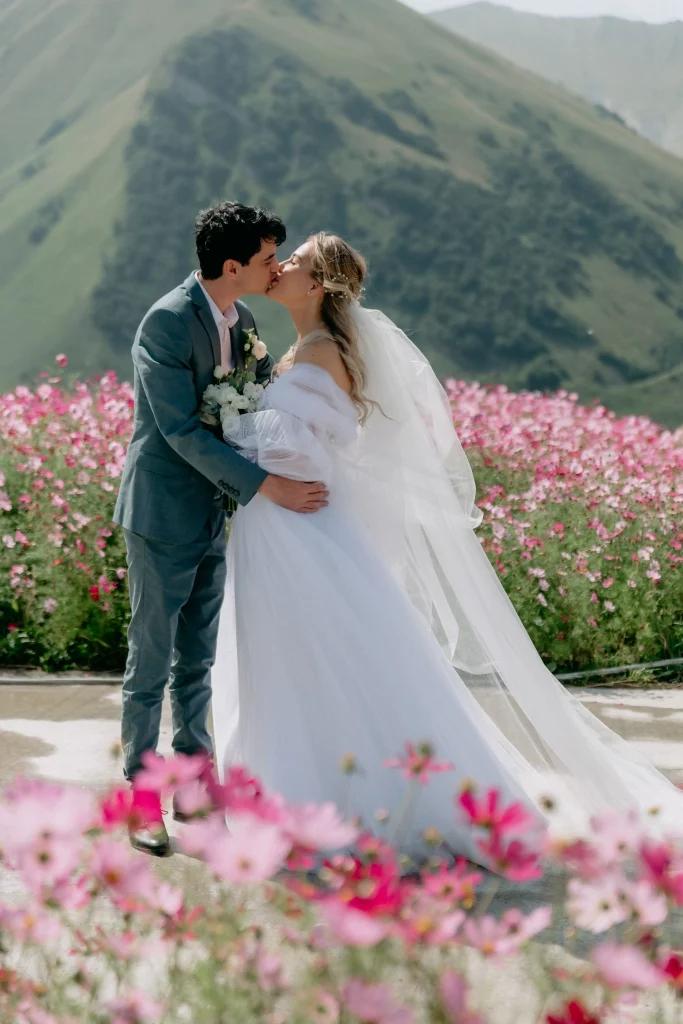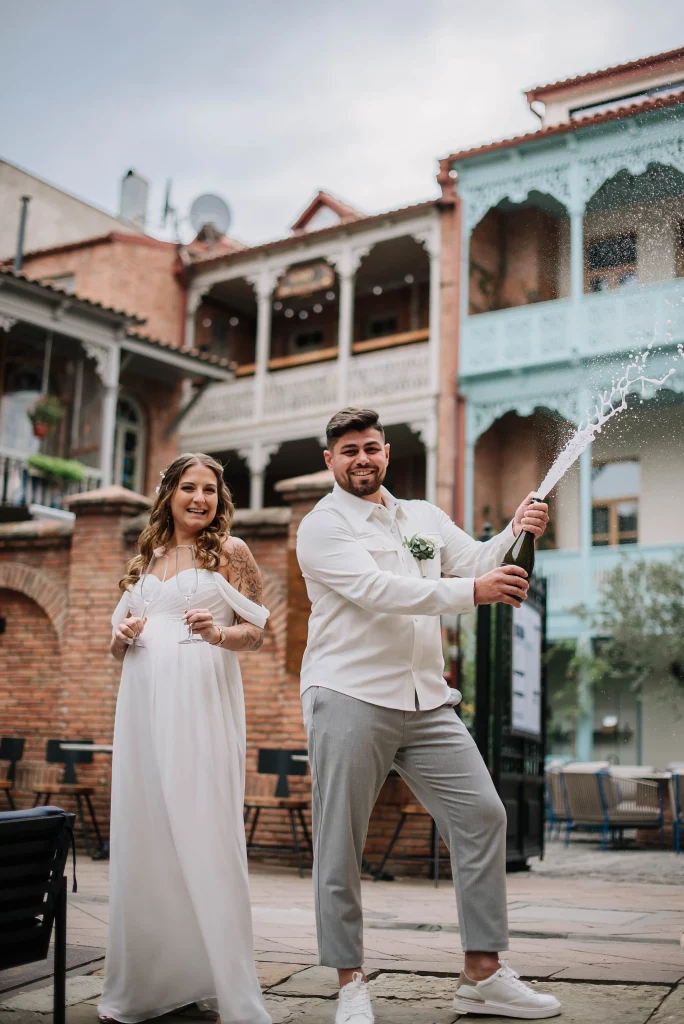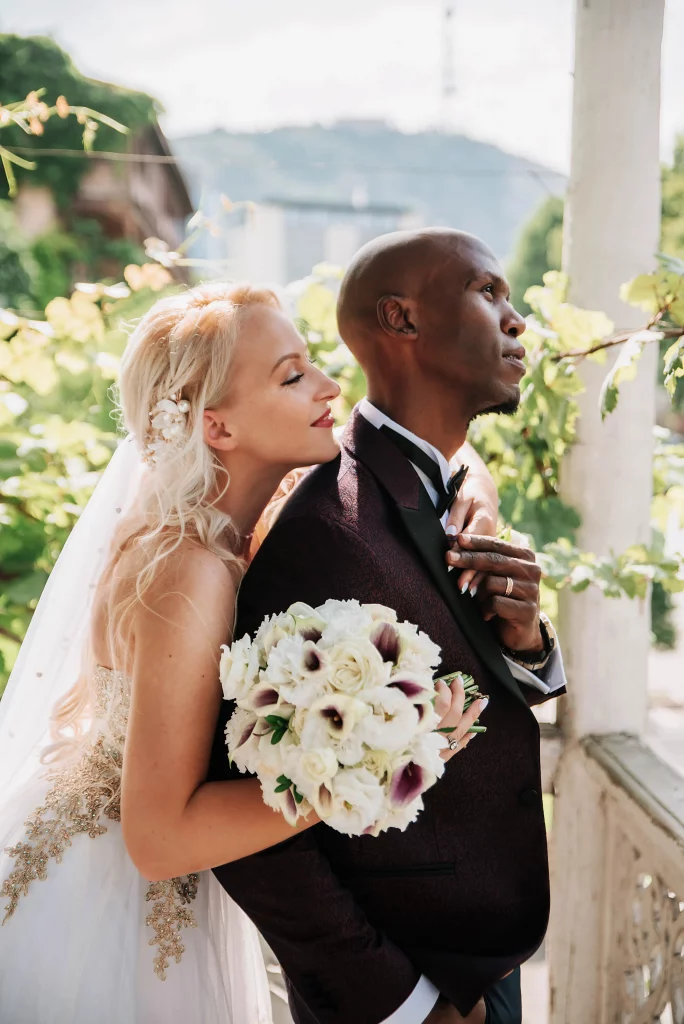 Wedding in Georgia in summer (June, July, August)
Summer in Georgia is a time when the air is filled with the fragrances of blooming gardens, and dreams of weddings fill the hearts of people from all over the world. June, July, and August are a true wedding season. With the growing popularity of wedding tourism, more and more couples come to Georgia in the summer months to say «I do» in this beautiful country.
And of course, summer is the perfect time for weddings in Georgia. This is the time when you can organize a wedding in the forest, on the seaside, in the mountains, or on a pier by a lake. The choice of locations in June, July, and August is simply enormous! From chateaus and castles to wineries and botanical gardens, you will find a place that will captivate you with its beauty and magic.
So, if you dream of a wedding in a romantic atmosphere, under the rays of the summer sun and surrounded by picturesque landscapes, then summer is the perfect time to make this dream come true in Georgia.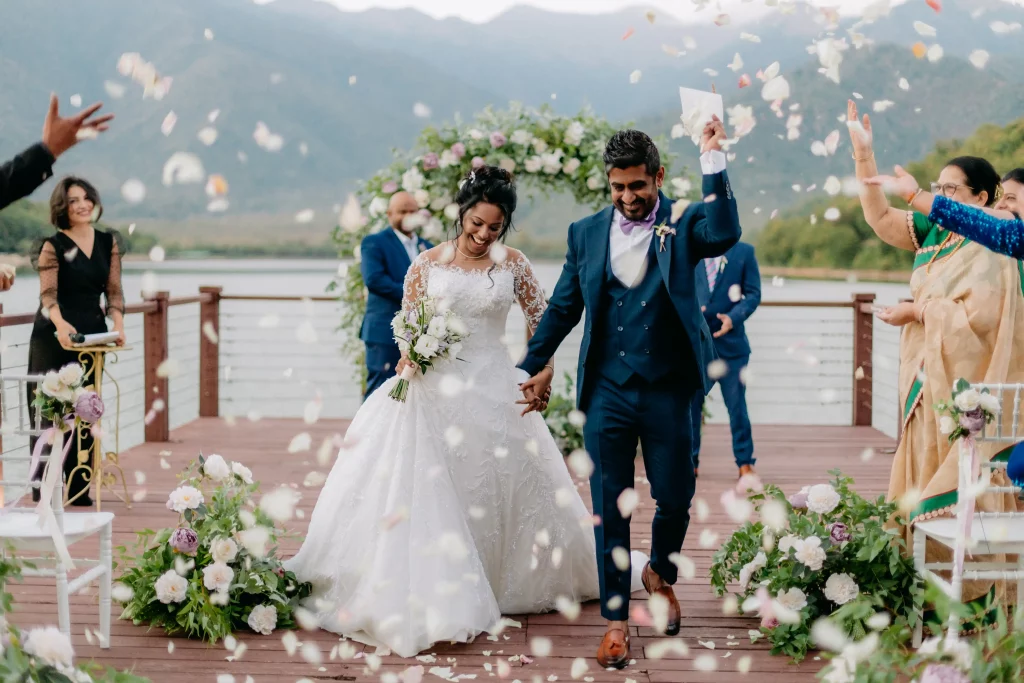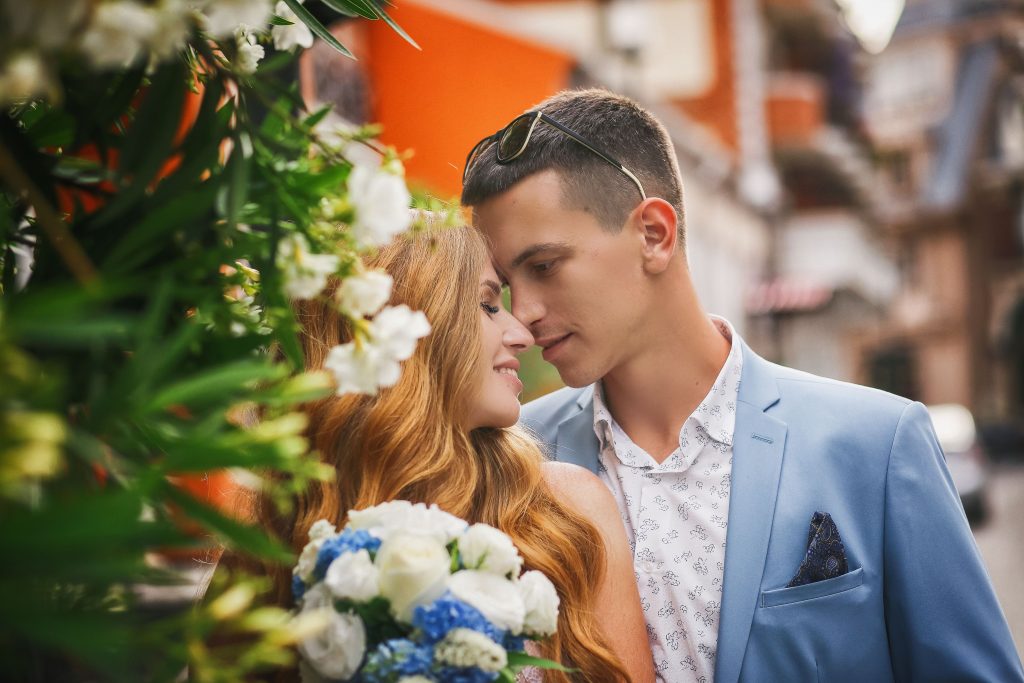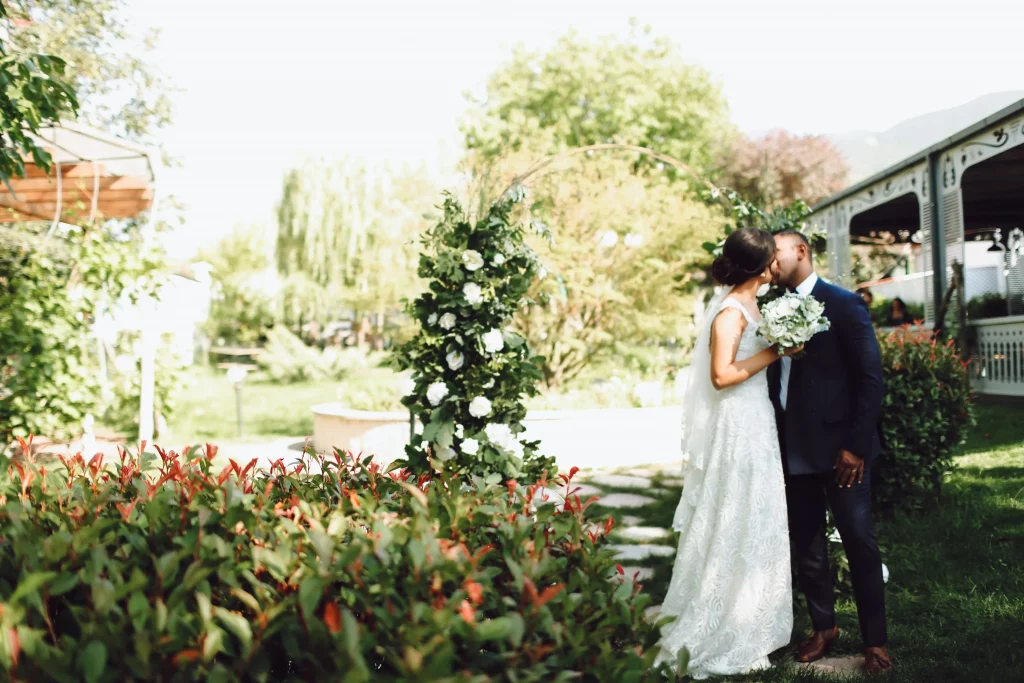 Fall Wedding in Georgia (September, October, November)
Each person has their own preferences when it comes to which month or season is the best for getting married, and we, as a team of a wedding agency, are no exception. We have discussed this topic and come to a unanimous decision — autumn is the season that takes the leading position in our personal rating of the best season for weddings.
Mainly, this is because the wedding rush decreases during this time of the year, making it easier to get the desired venue for the ceremony. But that's not all. The main factor that makes autumn so attractive is the atmosphere. Only in the fall can you enjoy such a variety of colors and palettes, such depth of shades, and a special charm that envelops everything around.
You can organize a wedding in the autumn practically anywhere of your choice, and it will look much more colorful than in the summer. Foreign couples who got married in Georgia in the fall are always delighted with this unforgettable atmosphere.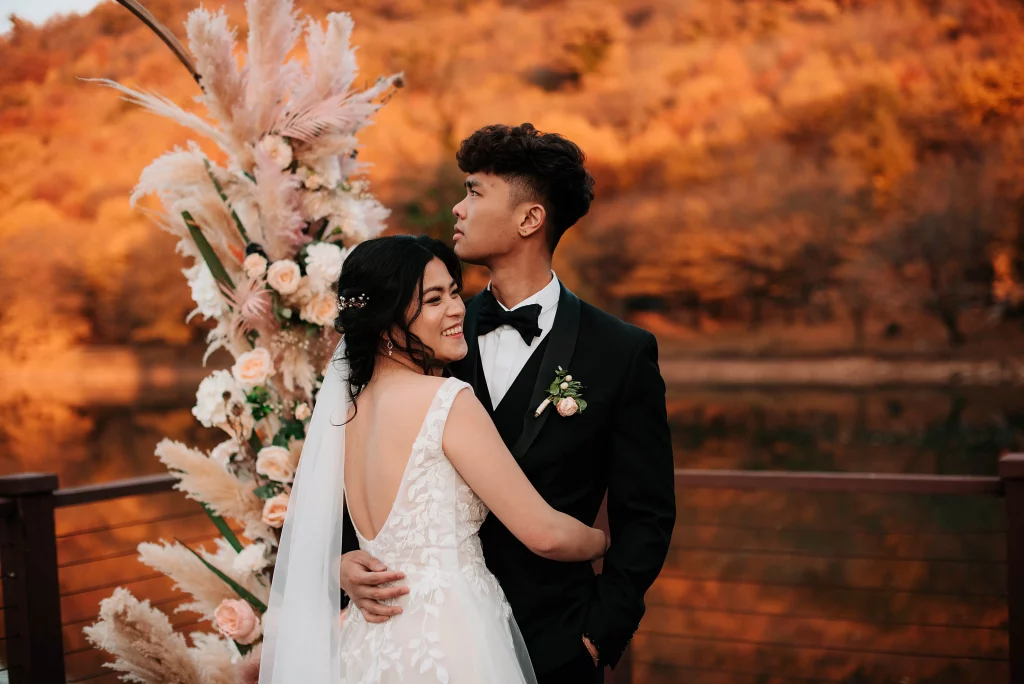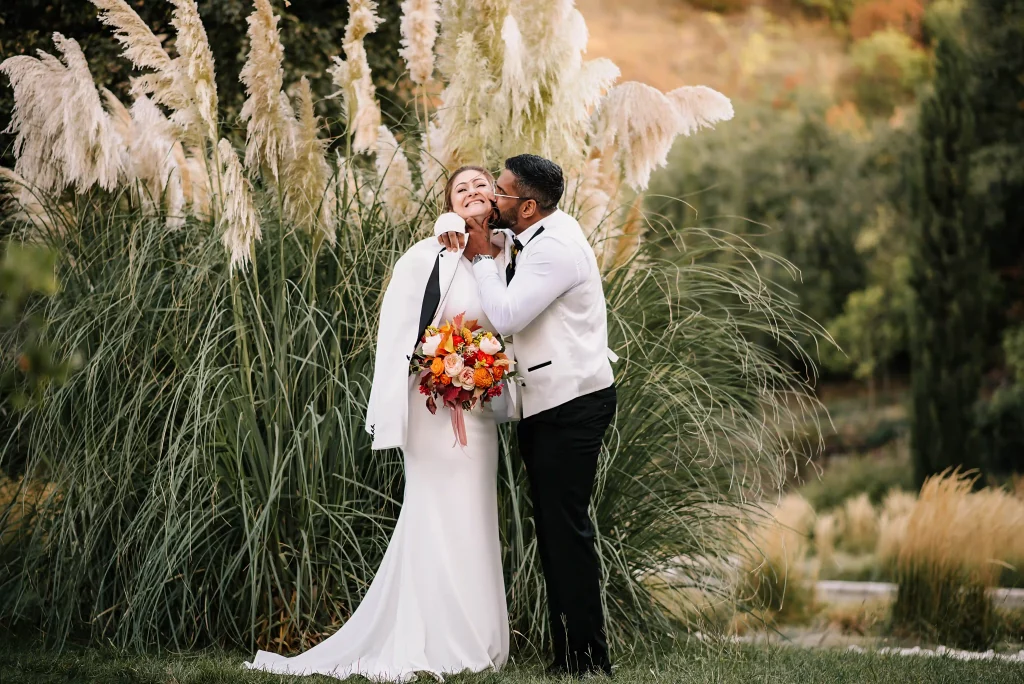 To sum up everything said above, it should be emphasized once again that the answer to the question of the best month for the wedding will be individual for everyone, and to avoid any doubts, it is worth discussing your wishes in detail with the organizer. Such a discussion will help to formulate the idea more clearly, and your personal wedding planner will be able to offer you the most suitable options.
Foreign couples who have decided to legalize their relationship in Georgia with "Shu Wedding" can be sure that getting married will not only be fast and easy but also will remain forever in their memory as a wonderful, bright, and unforgettable moment of their lives.
We organize weddings in Georgia , for any budget and wishes. With us, you won't have to think about how to organize your event or what documents you'll need. Georgia has simple laws and quick administrative resources, all you need for your dream wedding is your passports, we do the rest for you.