Majestic mountain peaks, exquisite vineyards, and a magical ambiance – these are just glimpses of the vast treasures that Georgia holds. Here, on this land, dreams materialize into reality, especially when it comes to weddings. It's a place where the heart of the Caucasus beats stronger, where foreign couples find their eternal harmony.
In order to transform the vision of a perfect wedding into reality, a guide, a professional, is required – someone who not only takes on the everyday tasks of wedding preparations, but also assists in navigating the complexities of arranging a marriage for foreign citizens on Georgian soil. In this crucial process, the aid of a wedding agency is indispensable, as it is us who take care of every detail on-site, shoulder the burden of managing the processes, and safeguard against the pitfalls of scammers and misunderstandings.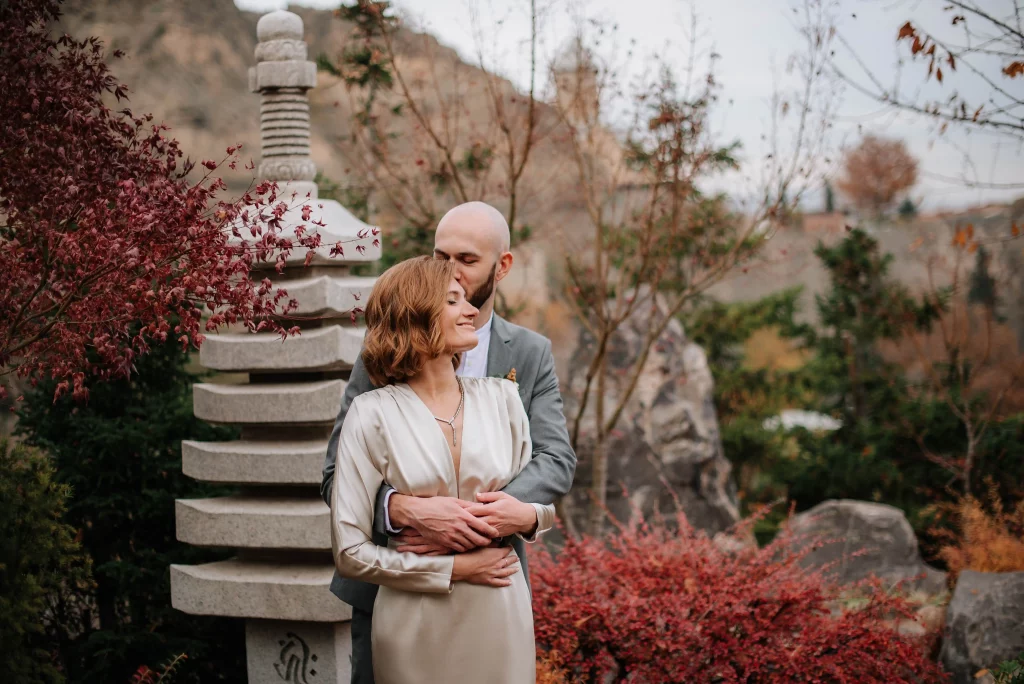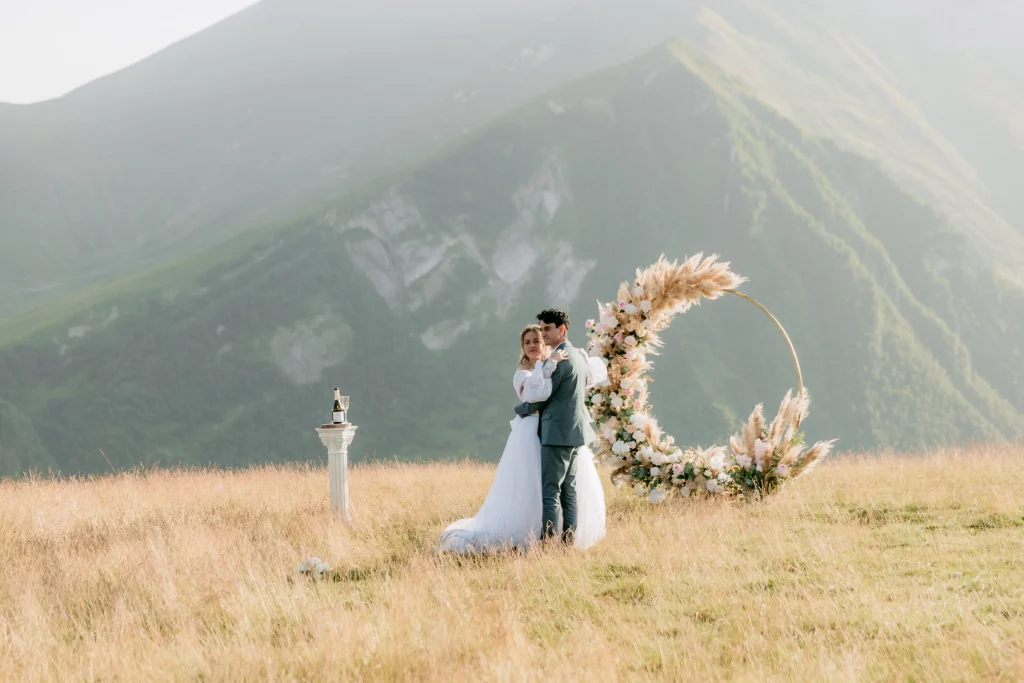 Choosing to orchestrate your wedding in Georgia with the assistance of «Shu Wedding», you are poised to embrace a splendid array of privileges:
Profound experience and enriched knowledge. We have orchestrated weddings for couples from various corners of the world on numerous occasions, thus mastering all the intricacies that may arise on the path to your marriage certificate.
Solid connections and steadfast partners. We maintain strong ties with leading service providers – from exquisite ceremony venues to accomplished photographers and impeccable catering services. This assures you of unwavering service quality, reasonable costs, and the distinctiveness of your event.
The finesse of detail management. Crafting a wedding entails a multitude of subtle elements that demand meticulous attention. Our specialists ensure impeccable planning, oversight, and coordination of every facet of your celebration.
Time and effort conservation. «Shu Wedding» assumes the burden of routine tasks, liberating you from stress and enabling you to relish the process itself.
Innovative approach. We are ready to translate your dreams into reality and aid in devising a unique wedding concept that mirrors your individuality and the story of your relationship.
Navigating unexpected situations. During the course of wedding preparation, unforeseen challenges can invariably arise. Our team possesses the experience to address such contingencies and is poised to find solutions amidst any extraordinary circumstances.
As you can see, we are ready to exert tremendous efforts to ensure that your wedding is flawless and remains a cherished memory as one of the most exquisite days of your life!
In order for couples to extract the utmost joy from their wedding in Georgia, we invite you to explore our all-inclusive wedding package.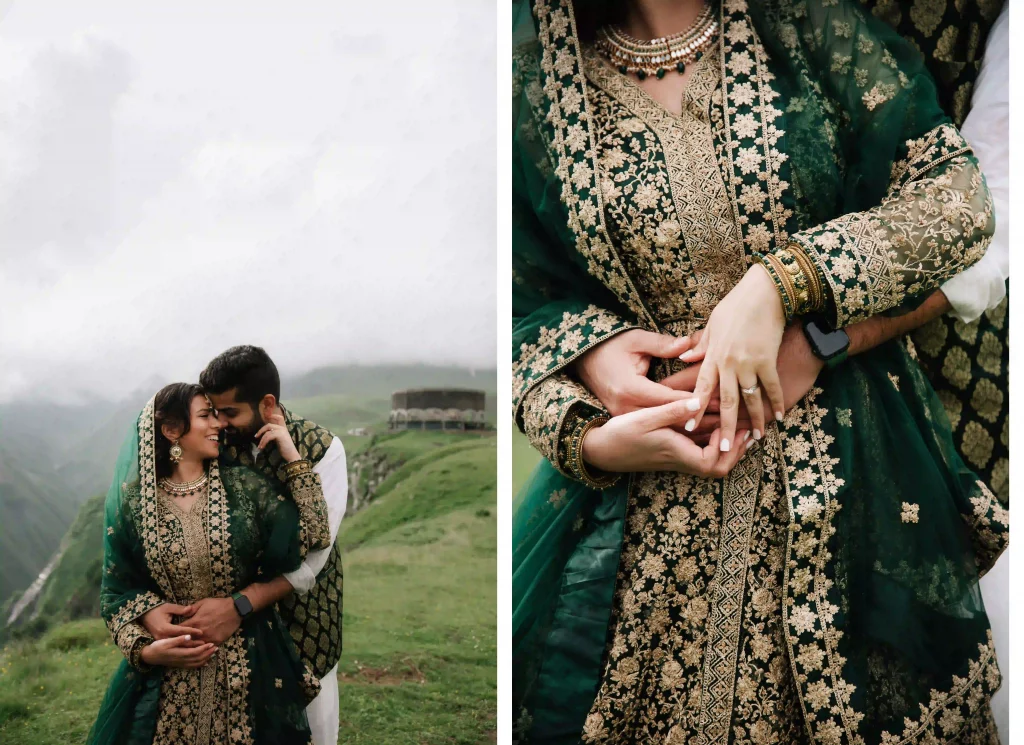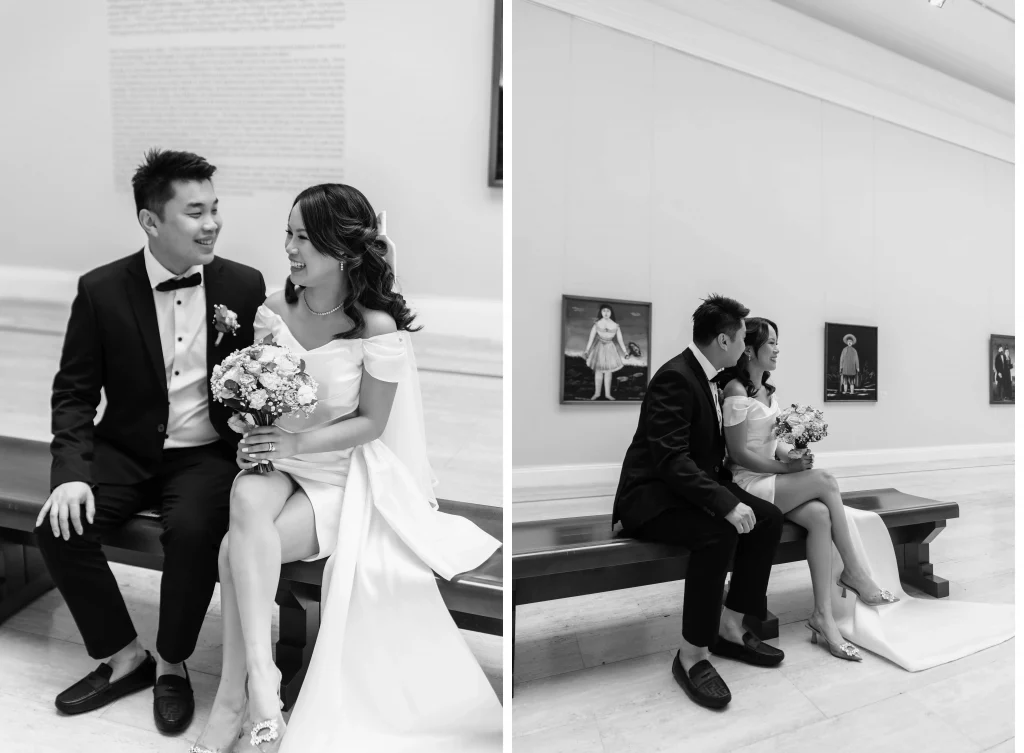 What does the «All-Inclusive» wedding package entail?
The «All-Inclusive» wedding package offered by «Shu Wedding» is a comprehensive solution that presents a hassle-free, complete organization, and execution of your wedding in Georgia. This package includes everything necessary to create an unforgettable event, from A to Z:
Planning and coordination: We provide an expert wedding coordinator who will collaborate with you on every detail, from selecting ceremony and celebration venues to creating a timeline of events.
On-site wedding registration: We handle the official marriage registration and ceremony according to your preferences in stunningly picturesque locations, such as mountains, lakes, or botanical gardens.
Decor and floristics: Working alongside you, our team develops an original style and decor, crafting a unique atmosphere that makes your event exceptional. Additionally, we prepare a bouquet and boutonniere in line with your wedding's style, as every detail on this day should be flawless.
Photography and videography: A professional team of photographers and videographers captures the most vibrant moments of your wedding to preserve them in everlasting memories. With 6-7 hours of coverage, every minute of your celebration will be captured in photos and videos.
Catering and menu: Not only the ceremony itself but also the cuisine, leave an impression of your wedding. Therefore, we make every effort to ensure that every guest finds something delicious at your wedding dinner.
Entertainment and music: On such a special day, many couples wish to relax and not worry about entertaining guests. We can offer a variety of entertainment options to suit every taste.
Accommodation and transportation: Our team takes care of transportation on your wedding day and suggests the best options for lodging and transportation for you and your guests.
Day-of coordination: A wedding coordinator monitors every aspect of the event on your wedding day, ensuring smooth execution without stress for you.
Legal support: By choosing us, you can be confident not only about planning the celebratory event but also about the legal aspects. We help you gather all necessary documents, ensure your marriage conforms to legal standards, and prepare everything needed for you to easily legalize your marriage upon returning home.
The «All-Inclusive» wedding package provides you with the assurance that every detail will be meticulously organized and aligned with your preferences, allowing you to enjoy your special day without concerns about the proceedings.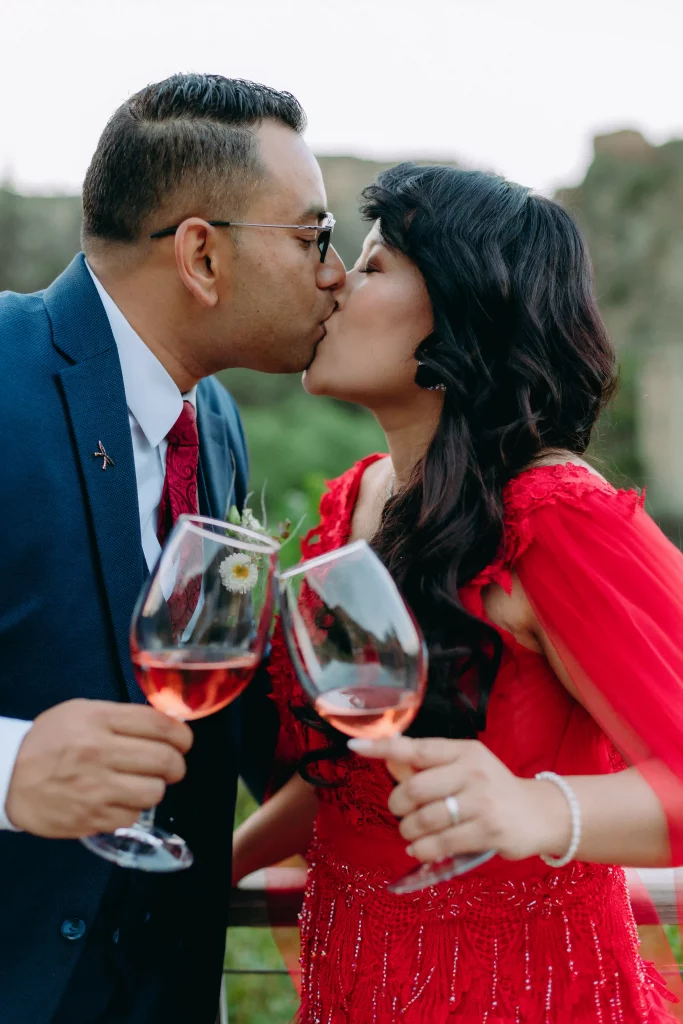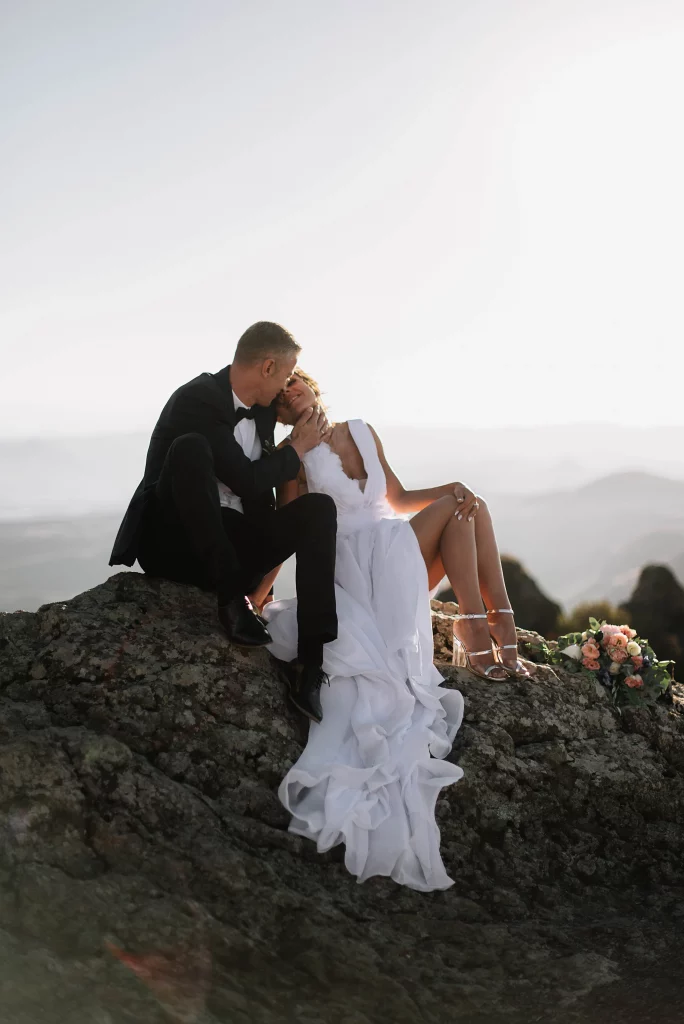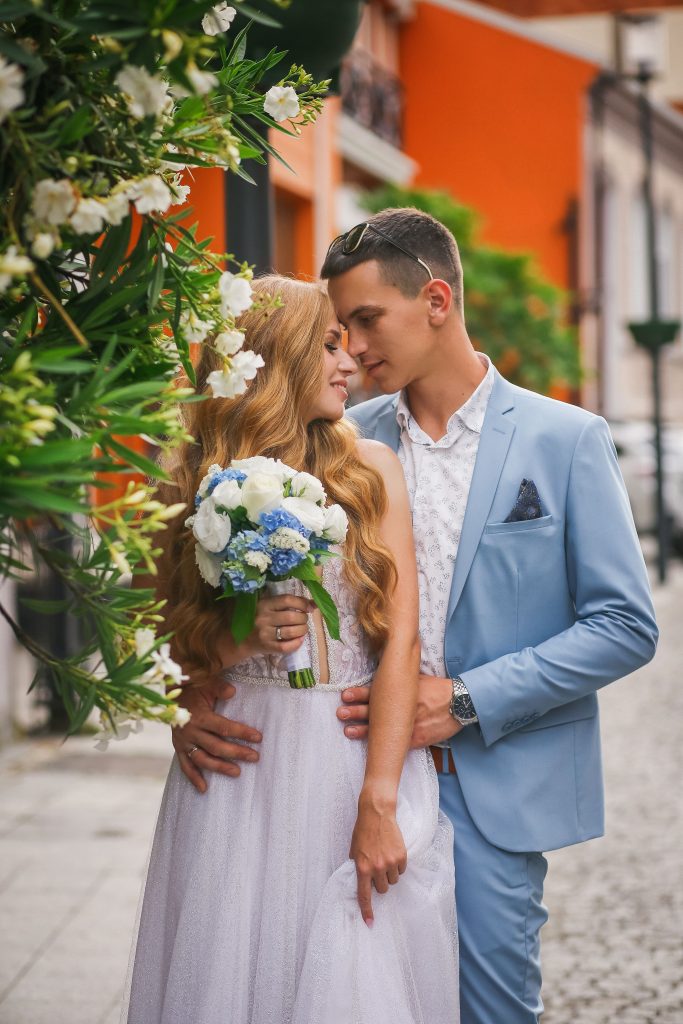 What is the cost of the «All-Inclusive» wedding package in Georgia?
The cost of a wedding with the «All-Inclusive» package starts at $2990, but this figure is not fixed.
When you approach «Shu Wedding» agency, our managers will thoroughly discuss all the aspects of the upcoming event with you and create a personalized estimate. With the preliminary assessment, you can add additional elements to the package or opt out of certain services if the cost goes beyond your budget.
Undoubtedly, one of the main advantages of the «All-Inclusive» package is its flexibility. You get the best service possible, and the opportunity to create a unique wedding, all while adjusting the final cost to fit your budget.
The «All-Inclusive» wedding package from «Shu Wedding» agency is the perfect solution for an ideal wedding in Georgia. Just get in touch with us, and we will make your wedding day truly unforgettable!
We organize weddings in Georgia , for any budget and wishes. With us, you won't have to think about how to organize your event or what documents you'll need. Georgia has simple laws and quick administrative resources, all you need for your dream wedding is your passports, we do the rest for you.