"Which one is the best location for a wedding ceremony in Georgia?" – is perhaps the most frequent question that we get from foreign couples inquiring to organize the wedding ceremony in Georgia.
In most of cases, even despite our extensive experience and professional skills, it's really hard to unequivocally answer this question. And this is quite logical, cause each couple has their own expectations from the upcoming wedding celebration, the budget limit and preferences for the characteristics of the location and design of the wedding ceremony.
But discarding all that and just asking us about the ideal venue for the offsite wedding ceremony in Georgia from our point of view, then it's Kvareli Lake Resort, for sure.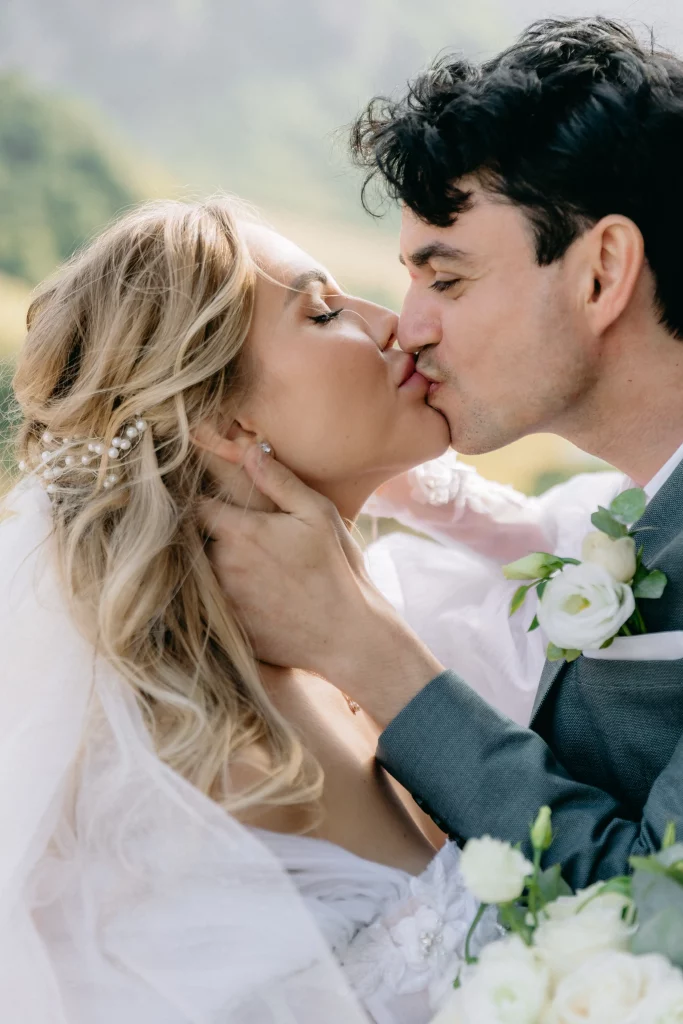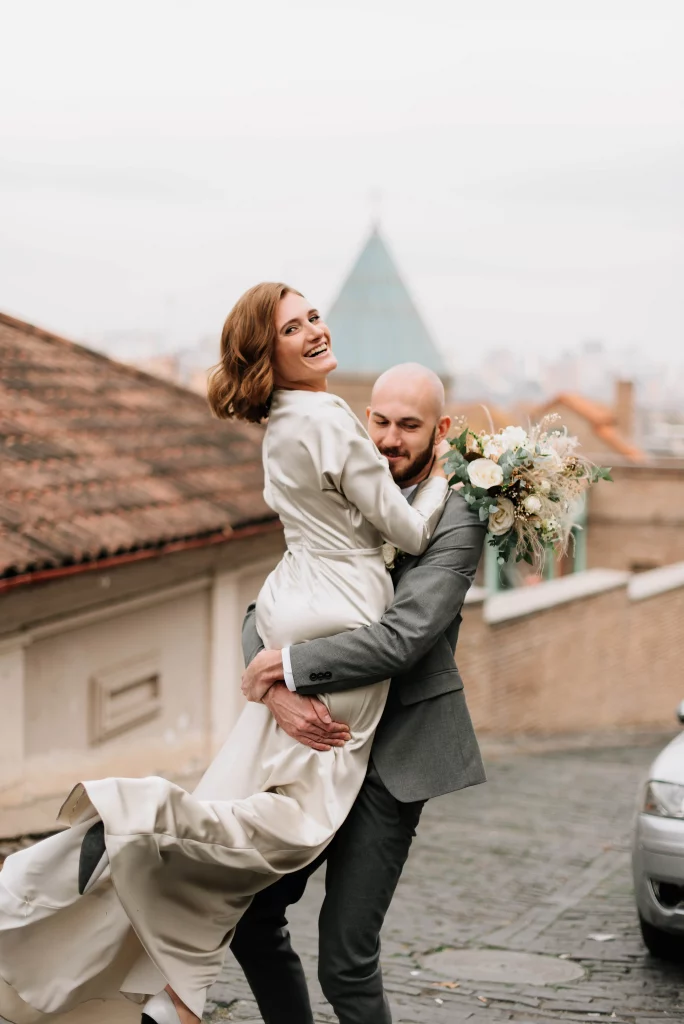 What is Kvareli Lake Resort?
Kvareli Lake Resort is a large-scale resort complex located in one of the most picturesque regions of Georgia, in Kakheti. This area has always been famous for its amazing natural beauty and diversity of landscape, as well as the ancient traditions of winemaking.
The resort itself provides excellent service, a lot of entertainment for vacationers and fantastic locations for various types of celebrations. Everyone who has ever been here, note the special atmosphere reigning at this place.
The grandeur of nature surrounding has a calming effect and makes you relax not only physically, but spiritually as well, gain strength from the environment and restore personal emotional resources. No wonder so many travelers come here for the purpose of individual or group retreat. The atmosphere of this place truly fills with the fresh forces and gives a charge of excellent mood.
Why Kvareli Lake Resort is an ideal wedding destination?
We often recommend foreign couples coming to get married in Georgia to consider this particular location for an outdoor wedding ceremony. And there are objective reasons for this.
All the processes related to the wedding can be divided into several steps:
Transfer to the venue of the event
Most likely, you will arrive in Georgia by plane, landing at the Shota Rustaveli International Airport in Tbilisi.
Next, getting to the location of the wedding ceremony – Kvareli Lake Resort. The duration of the journey is just 2 hours by car, that is quite fast.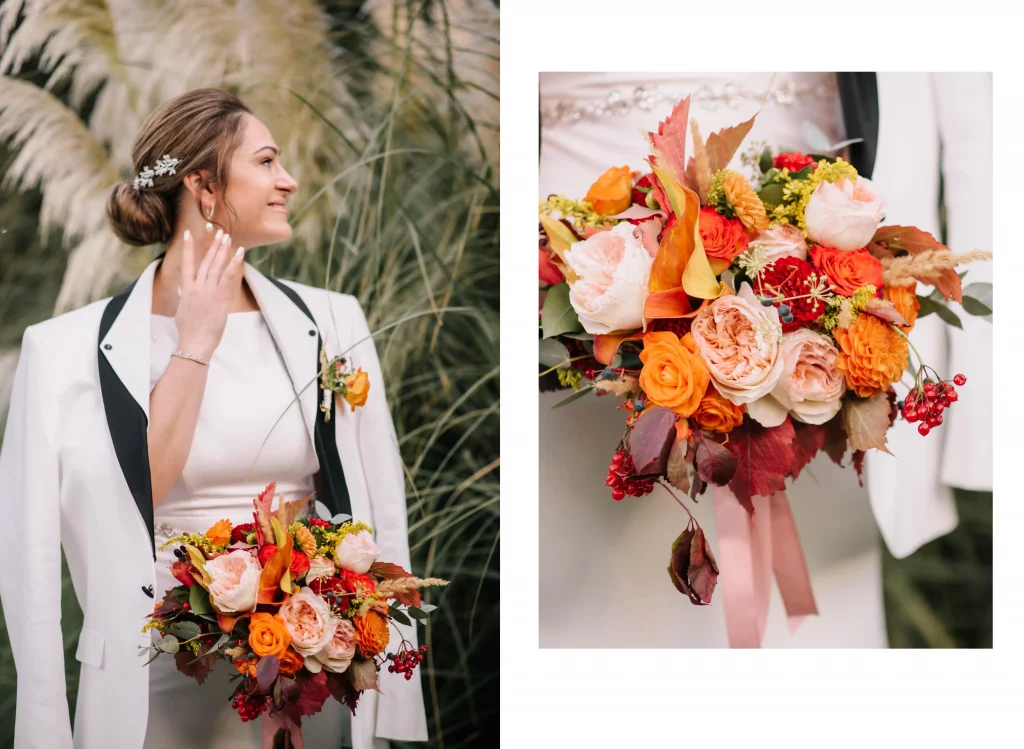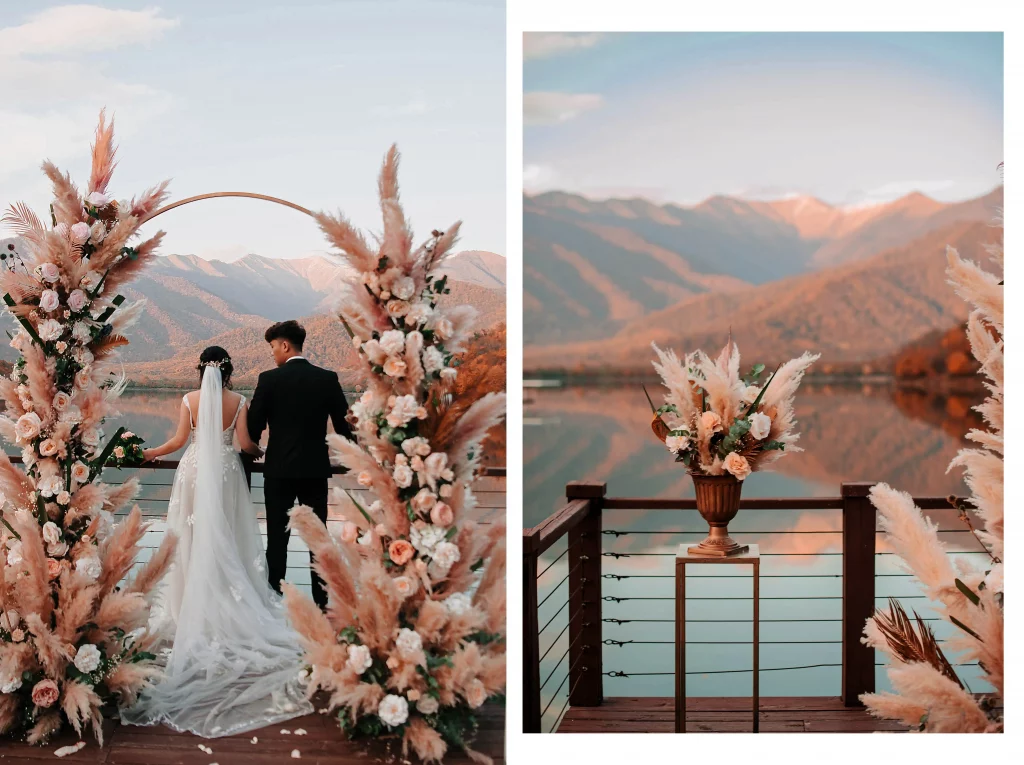 The offsite wedding ceremony in Georgia for foreign couples is held by two scenarios:
Organization of the process of official marriage registration on the territory of Kvareli Lake Resort.
Official marriage registration in Tbilisi at the House of Justice and a solemn part for your guests, photo shoots, a wedding banquet at one of the locations in the Kvareli Lake Resort.
The territory of the resort offers several stunning locations for a wedding ceremony at once. It could be:
Terrace for up to 100 guests with a beautiful view of the Alazani Valley with its verdant vineyards surrounded by mountain peaks.
Restaurant with its refined and varied cuisine and modern interior.
Delightful pier overlooking the picturesque lake and green hills.
One of the locations on the territory.
Mountains, lake and surrounding landscapes will create a divine backdrop for your wedding ceremony.
• Accommodation and honeymoon
Most of the couples we have worked with prefer to visit Georgia for at least a few days in order to have time not only to get married, but also to enjoy the unique beauty of the country.
By choosing Kvareli Lake Resort, you hit the jackpot – find a chic and picturesque place for the ceremony and a comfortable resort for further rest.
The hotel complex has 41 rooms that will accommodate all your guests without being constrained by other vacationers.
The resort offers its guests a swimming pool, bicycle paths, boat rental for romantic walks on the lake, water skiing and modern fishing facilities. The area around the lake is well equipped for leisurely walking. If you are active enough then take advantage of a great opportunity to go on a day hike in the mountains on foot or by bike.
One more type of recreation provided by Kvareli Lake Resort is a SPA complex, which includes:
The complex has a high-class restaurant, ready to please you not only with delicious dishes, but also with traditional Georgian wine, made according to the ancient winemaking technologies of the Kakheti region.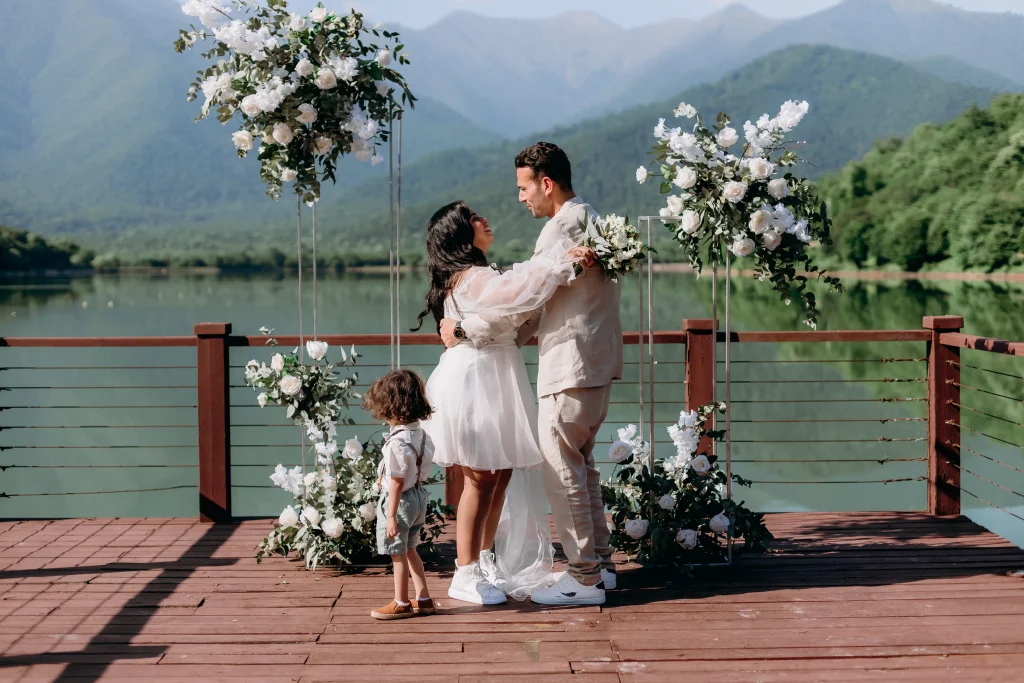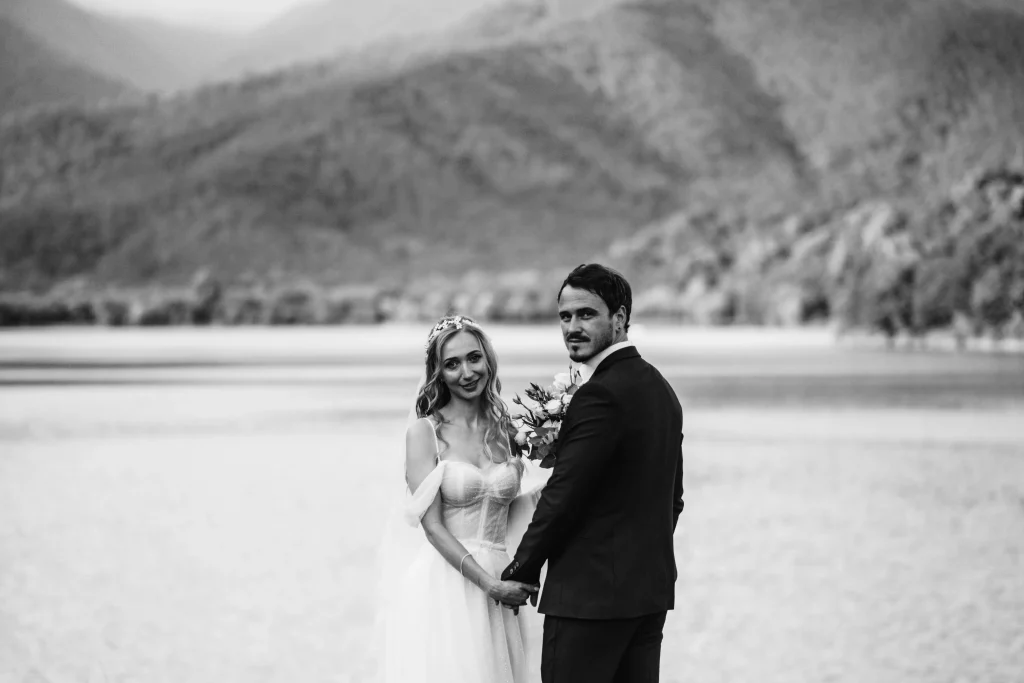 Thinking about organizing a wedding at Kvareli Lake Resort?
If you fell in love with this amazing place and are planning your celebration here, you just need to contact the manager of the wedding agency «Shu Wedding».
We will gladly take care of all the preparations, fulfil all your wishes and do our best to make your wedding in Georgia memorable for a lifetime!
We organize weddings in Georgia , for any budget and wishes. With us, you won't have to think about how to organize your event or what documents you'll need. Georgia has simple laws and quick administrative resources, all you need for your dream wedding is your passports, we do the rest for you.